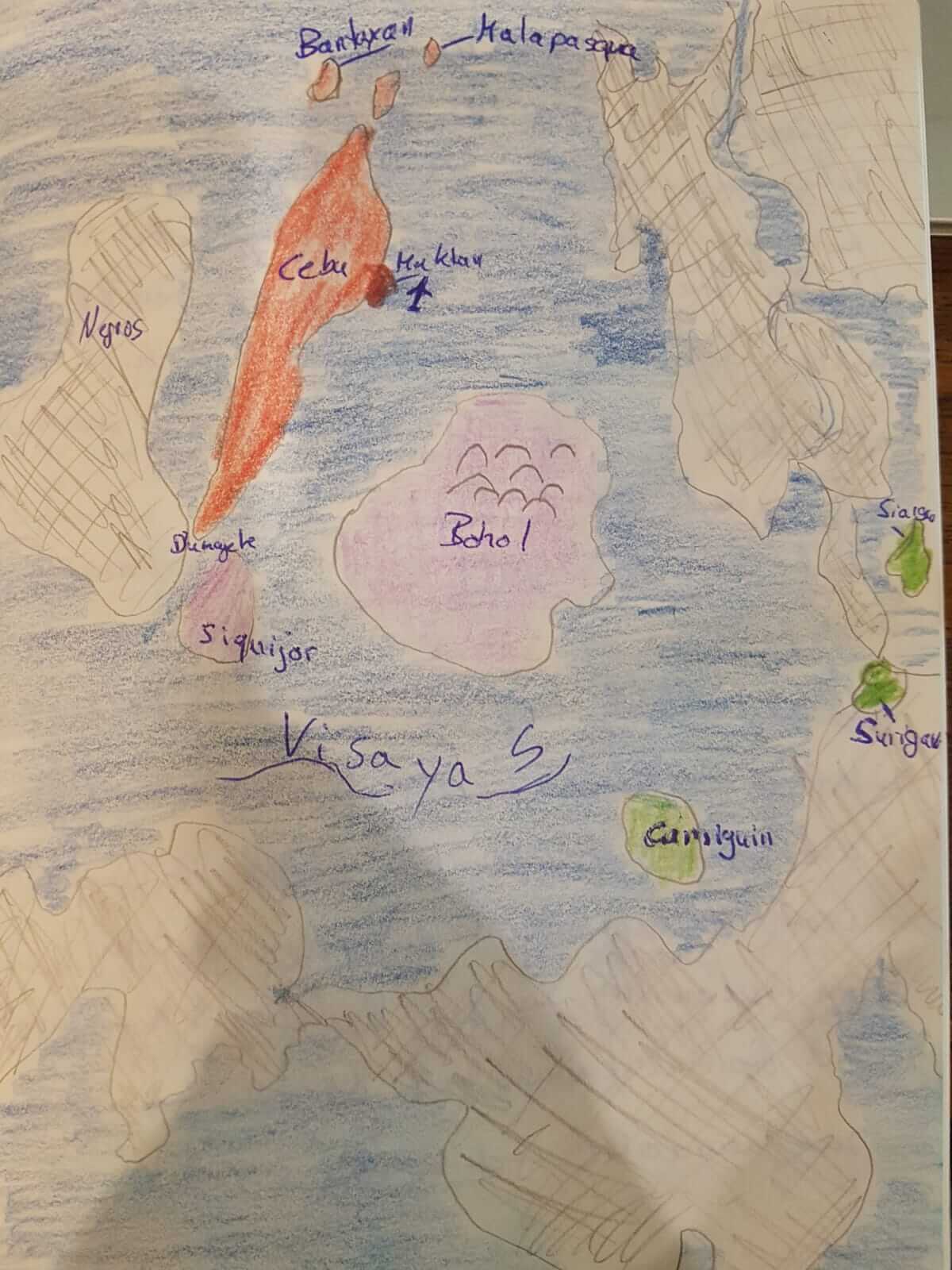 The Philippines consists of more than 7000 small and larger islands. Since I have "only" 3 weeks and want to get to know at least a few of them, I decided for the area Cebu, which belongs to the Visayas. I reached Cebu City from Singapore via Manila (capital of the Philippines) with Cebu Pacific. Unfortunately, I can't say much good about the airline, because every flight I flew with Cebu Pacific (3 flights) was delayed, every time over an hour. There was also a lot of savings in the service. Even with the water you have been greedy.
Since I am on vacation and in chill mode, I wasn't particularly excited. – Why, since my attitude in everything in life is that everything is right and good, as it is and there is always a reason for everything, both large and small.
First of all, I would like to report how dear and especially the people are here. One is greeted almost everywhere (especially outside the cities) with a warm smile and "Hello". All the children wave to you and rejoice when you can speak a few words with you.
I always had a sense of security, even at night when I was in Cebu City. There was not a single unpleasant situation. But here, too, it has to be said that it has a lot to do with people's attitudes and other peoples. If you already have the idea it could happen something, you have to be careful etc. and prepares for fraud, that you may attract and experience this.
If someone has grown up with daily and even ugly violence and hatred, this becomes "normality" and one expects it.
So it went to a friend of mine who has experienced a lot of violent and terrible in her childhood and the following life and who has made of her what she thinks about people and situations today – everything is dangerous in your eyes and almost every stranger is met with criticism. d unfortunately, she always put it on. Even in the safest countries and cities, she was harassed, even though I was there, and that was the first time I was there. not far away also in the same city.
But it also works the other way around. When we look positive lyrism from all human beings, no matter how serious or "unhappy," we find that right around us.
So I can often see by the "outside" what my inner state is like. Because if I'm not in my midst and in a bad mood, everything goes wrong and the people around you are all doof.
So travelling to all parts of the world is always exciting, as it is somehow always a journey with and within itself.
How I felt about the Philippines:
Cebu – Cebu City:
Arriving at the airport, I knew from research that I had to take a "white taxi" and not the yellow. – These are the "scammers" (rip-offs). But also with the white taxi you have to pay attention, that the taxi driver then also turns on the taxomat. Unfortunately, almost every taxi driver tries it to make you a few more pesos easier by repeatedly claiming that any fees are added (flight fee etc.) – No, you always pay what it costs. If it is advertised in this way, the driver is also obliged to transport you for the price. Don't get into a discussion. But don't be over-critical either. A nice conversation and interest in people is always helpful and contributes to the joy.
Transportation – buses, taxis and motorbikes: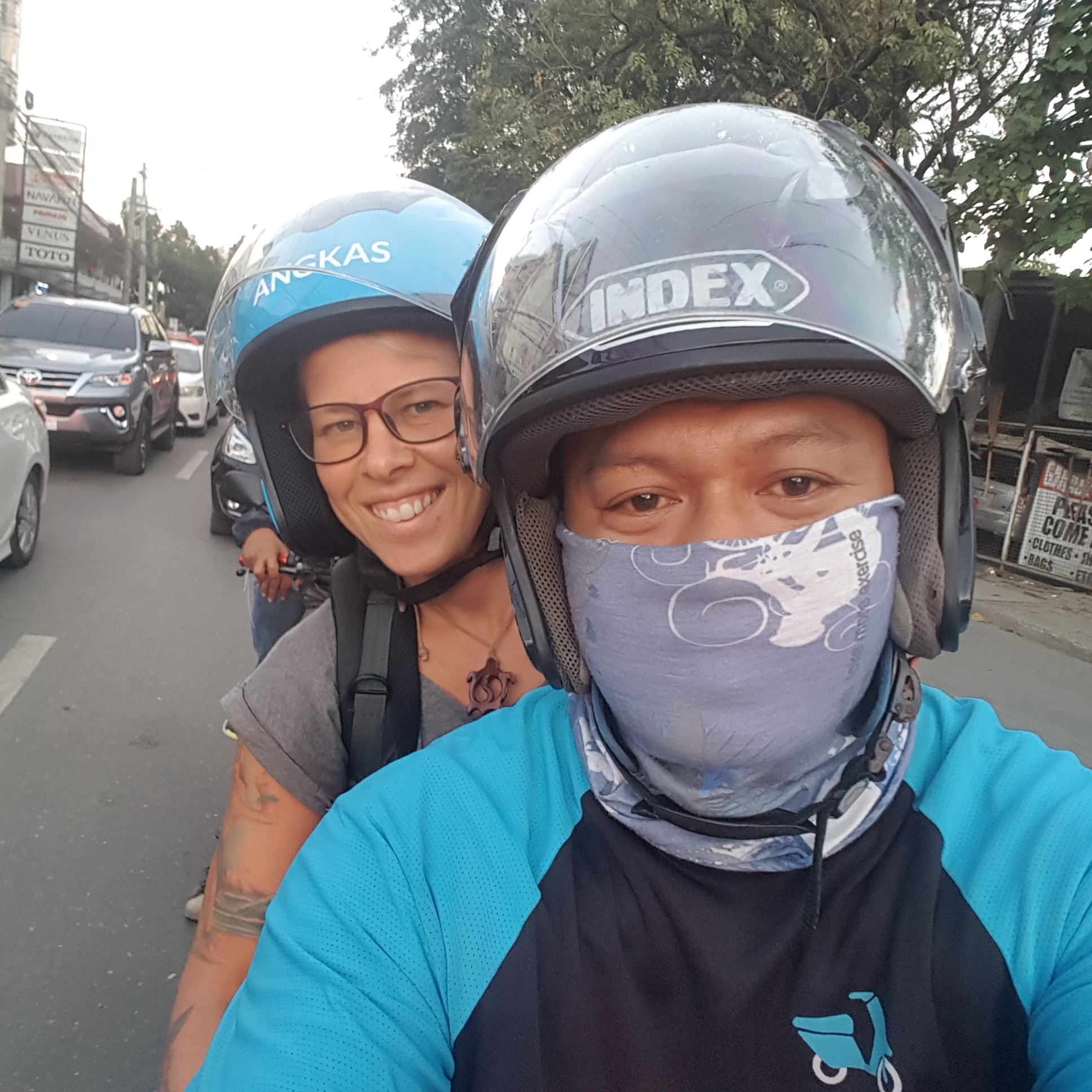 From or to the airport you take either a taxi or "My Bus" which approx. 40 pesos. He then takes you from "Mactan Island" (airport) to SM City Station. From there you can take a taxi, jeepni or motorbike more cheaply.
In addition to the taxis, the yellow and white, there is also an app called "Grab". This allows you to order a taxi directly at a fixed price (like Uber) – but sometimes more expensive than a taxi.
In addition, there is a motorcycle taxi, which you also request via an app – "Angkas" – cheaper than a taxi, but only useful if you don't carry a suitcase around. You also know the price in advance.
There are also other motorcycle taxes, but they make a price proposal, which is usually inflated. The so-called Habal Habal.
One of the Philippine landmarks has become the Jeepni. Small colorful buses in which you sit opposite each other. However, there is no timetable and no official stops, which makes it very difficult to find the right line to the right destination. Google is a help. When you enter a destination, Google shows you the possibility of public transport. Z. B. 06H7. You wave the Jeepni, and if it's not fully loaded, you get in and drive to the desired destination. – Simply monitor the route and location via Google. This is how you get to your destination for 7 pesos for the 10 times cheaper.
Of course, there are also many private providers who organize everything for you and plan to do so many times more expensive. The same applies to boats and ferries that take you from one island port to another. You can buy tickets directly at the port for e.g. b. From Cebu Pier 1 to Bohol or Surigao. That's later. If you book online, it's similar to a travel agency, where you still pay commission fees. Sometimes, however, this is the simpler way to secure a ticket and space without having to travel back and forth large. In the case of ferries, it is necessary to b. According to Bohol with 600 pesos + pier charges 50 pesos. That is EUR 10. Of course, you can also book a flight. You can then book a pre-booking of approx. 1 week with approx. 2000 to 3000 pesos count (50 Euros) Still cheap if you are not exactly a budget traveller like me.
Cokaliong Shipping Lines at the port
Sim Cards – Mobile Phone Rates
There are 2 providers at the airport: Globe and Smart. If you don't have a reception with one, it's with the other provider, which is why some locals have 2 mobile phones with both tariffs. However, the promotion offer at the airport is getting more and more expensive. You can choose between a few days, 2 or 4 weeks and then pay for 4 weeks e.g. B. 1000 pesos. This is overpriced and unnecessary, as there is also wifi everywhere. It is best to ask a Philippino how to buy a cheap offer. There are also Globe and Smart Shops everywhere.
Night
Via Booking.com and Agoda you can easily select a hotel and pre-book. Which is at least recommended for the 1. The overnight stay is because you must always provide an address when entering and applying for a visa on arrival. This applies to every visa and country. It is important that you always enter at least one hotel, whether you have booked there or not. As I said, an arrival address is always required if you do not want to have unnecessary questions and difficulties in entering/immigration.
There are also plenty of Air B&B offers. Since I like to travel alone and have personal experiences with locals, I decided to go couch surfing and have already written enquiries from home (see www.couchsurfing.com) – this is individual, free and can bring a lot of fun. However, you don't have a "privacy" because you have to share the room or spend the night on the couch or an air mattress, depending on what the couchsurfers offer. So I stayed in Cebu City 4 nights with Cien, a great young woman, with a big heart and openness. She told me on 1. Evening with her friends and went with me in the evening to a local "foodmarket", where 99% of them only stay and dine. There is also life music or karaoke. – Apropo Karaoke… – The Filipinos are true world champions in karaoke, which of course suits me very much, because I love karaoke, which has surprised the local, since most Europeans adorn themselves before singing with the excuse "I can't sing"…
But that is not the point. It's actually like everything in life. It's about the joy and fun you have singing.
The couchsurfer is also an artist and tattoo artist. On the last evening in Cebu I got a tattoo and she got a massage from me.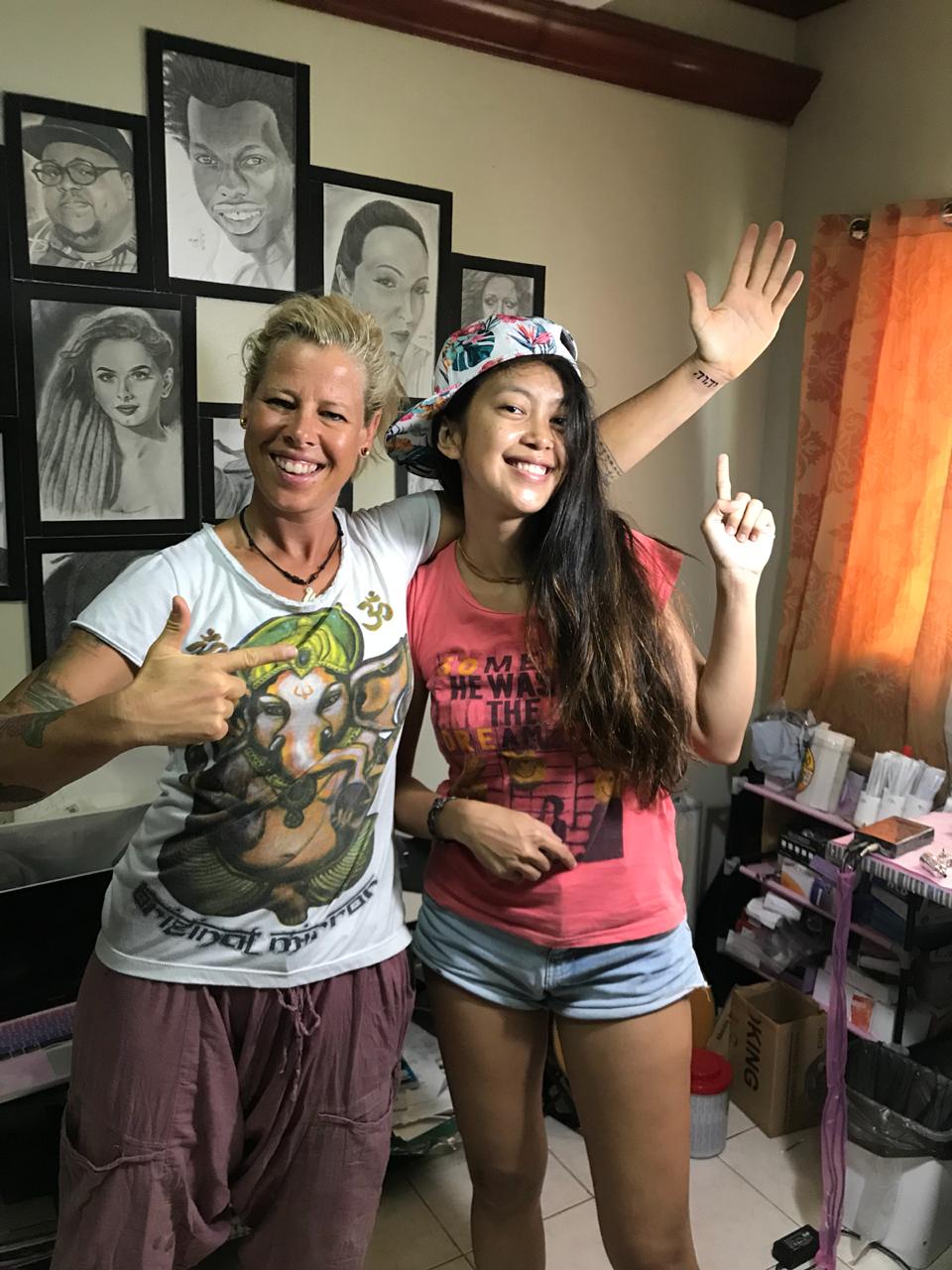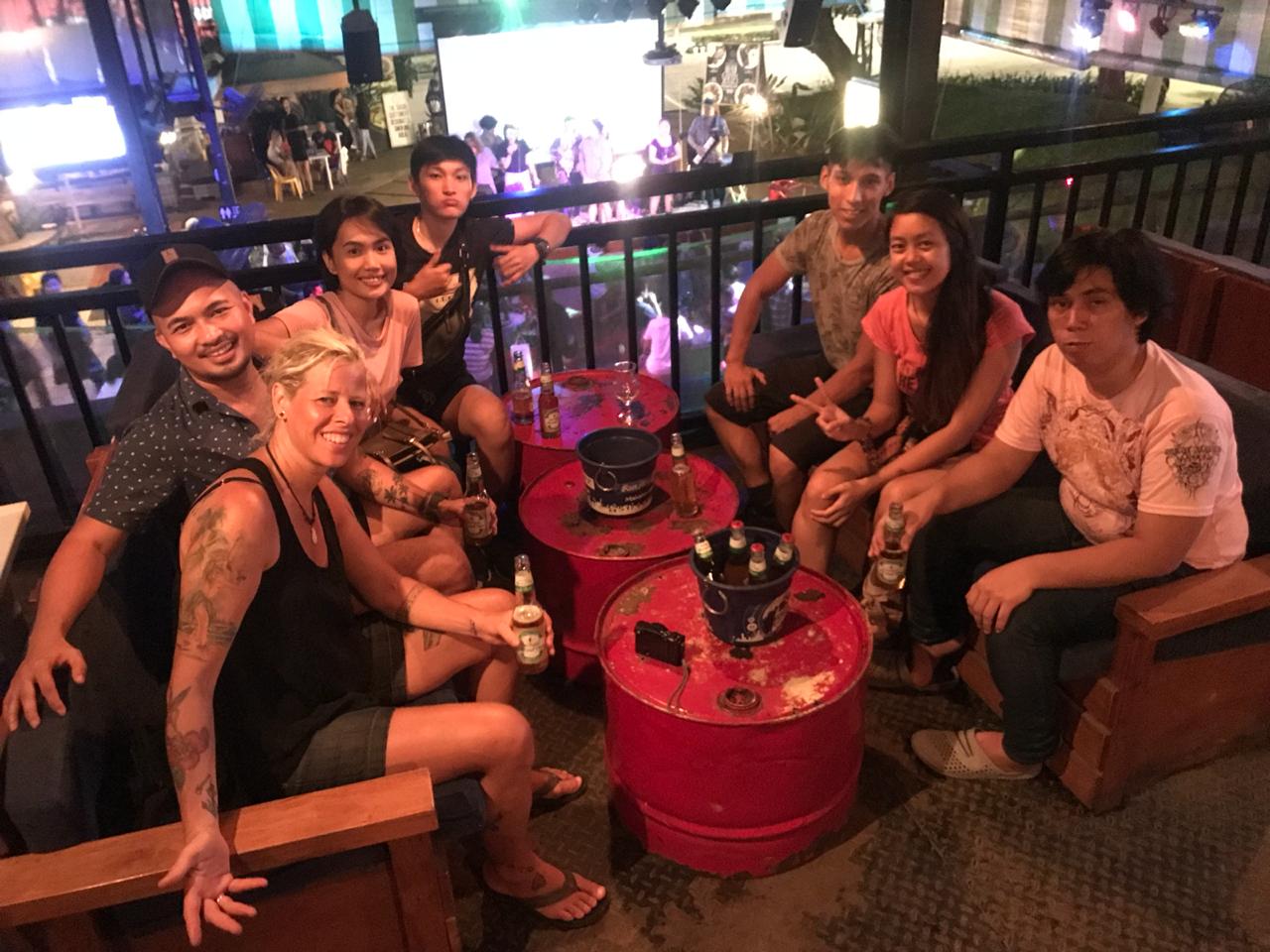 I didn't do that much on Cebu itself. But I finally wanted to dive again after 6 years. So I did a "refresher" on Mactan Island with 2 dives that went great.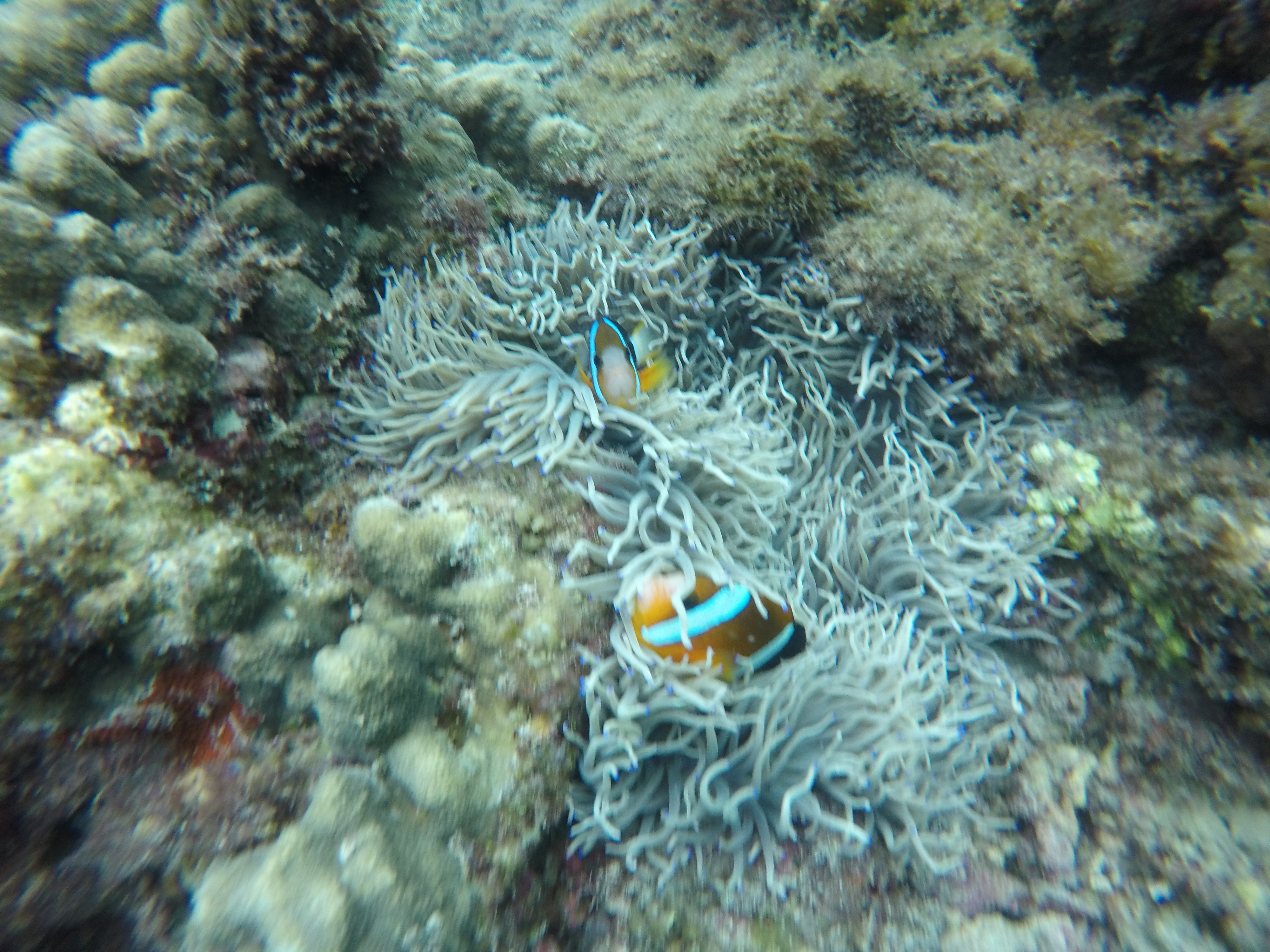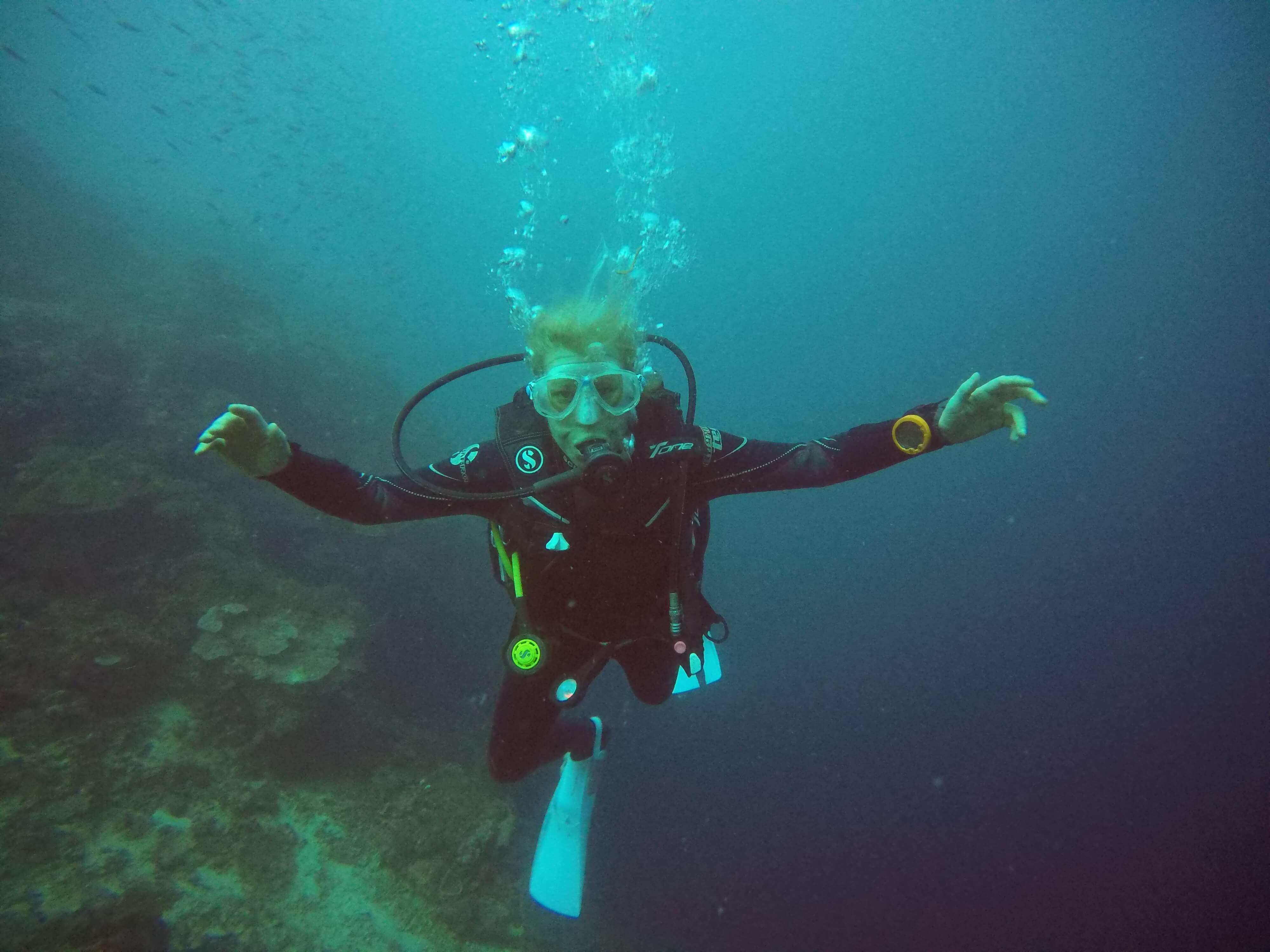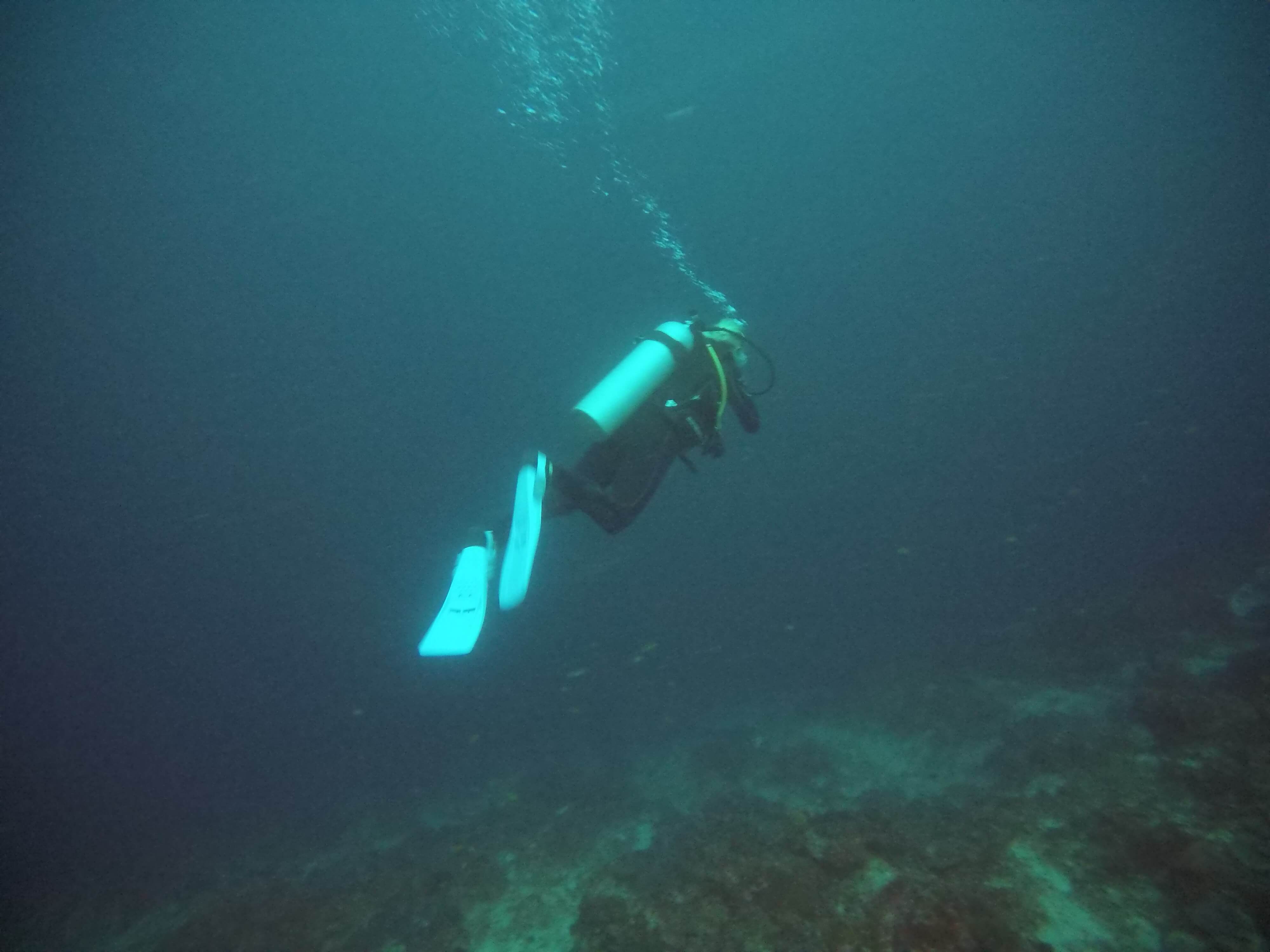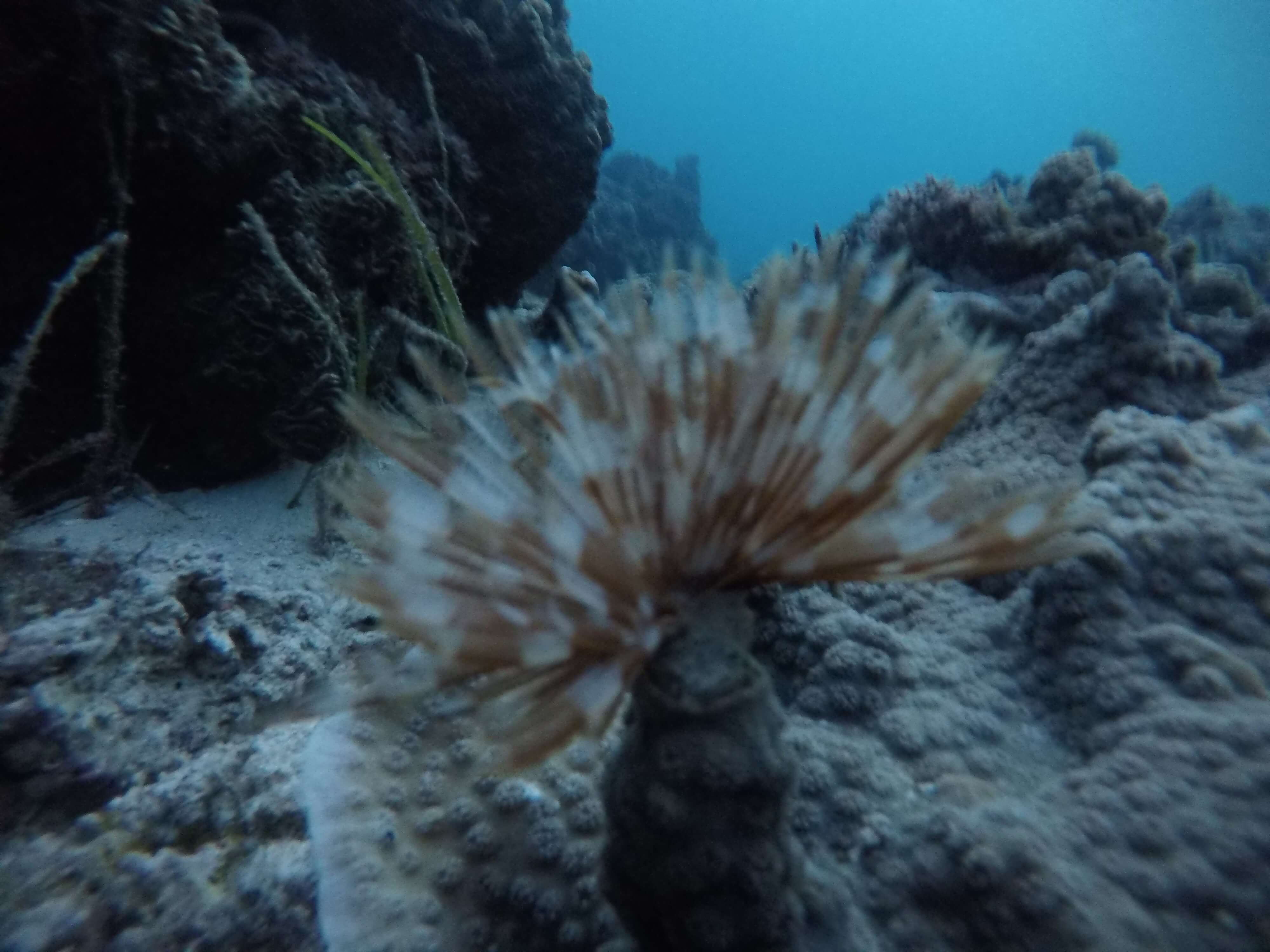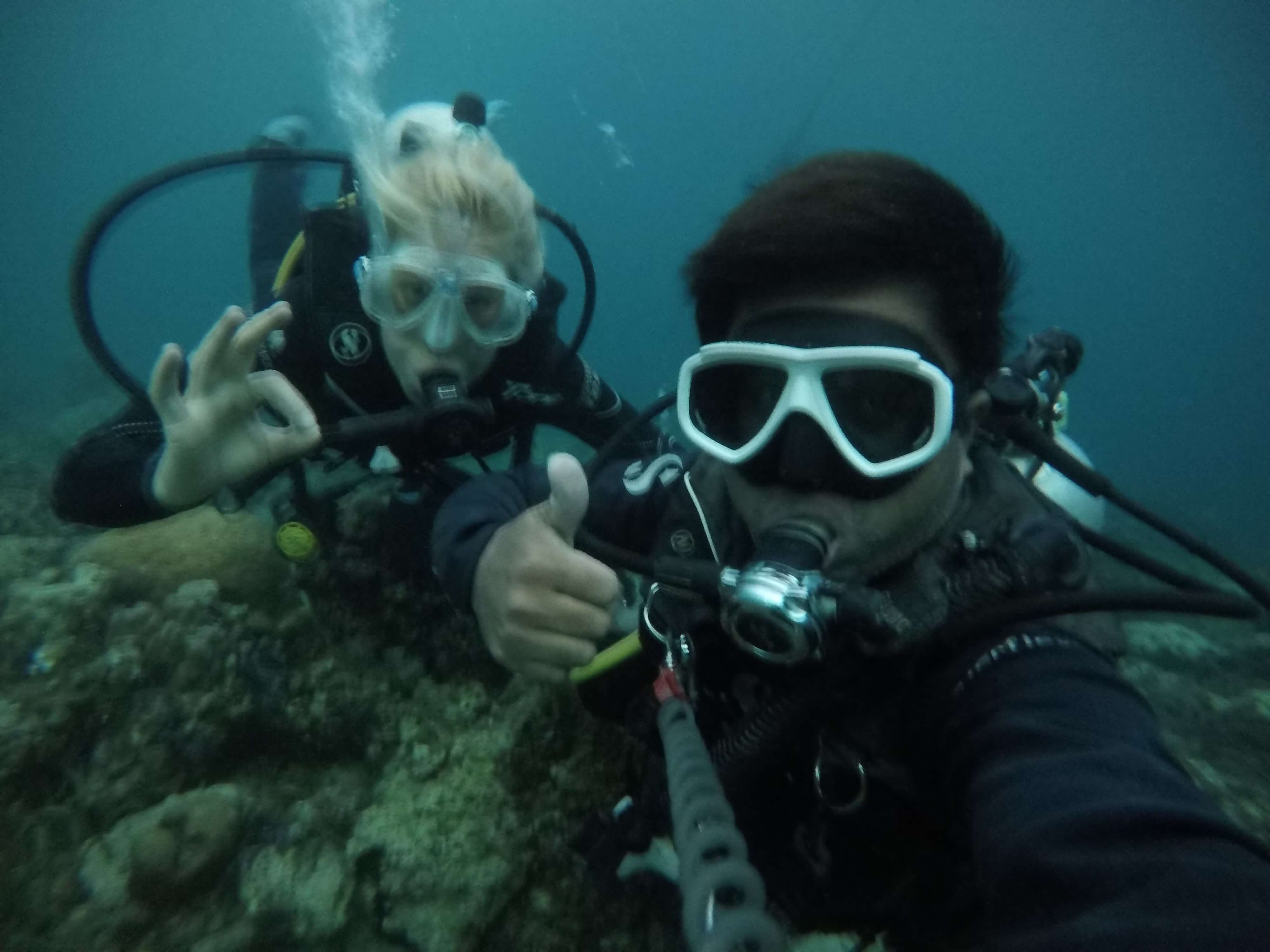 On the way back, to Siquihor again in Cebu, I took the bus from the North Bus Terminal to the north to Maya to take the ferry to Malapascua. (100 pesos) Again, it's hard not to let yourself be slapped over and only pay the required 100 pesos.
Unfortunately, a typhoon was announced and I still came to the island, but after that the coast guard stopped the boat traffic. So even my planned dive into the water a lot. I was so looking forward to the Tresher Sharks, which is the highlight of the island. Here most of them only come for diving and the Tresher Sharks.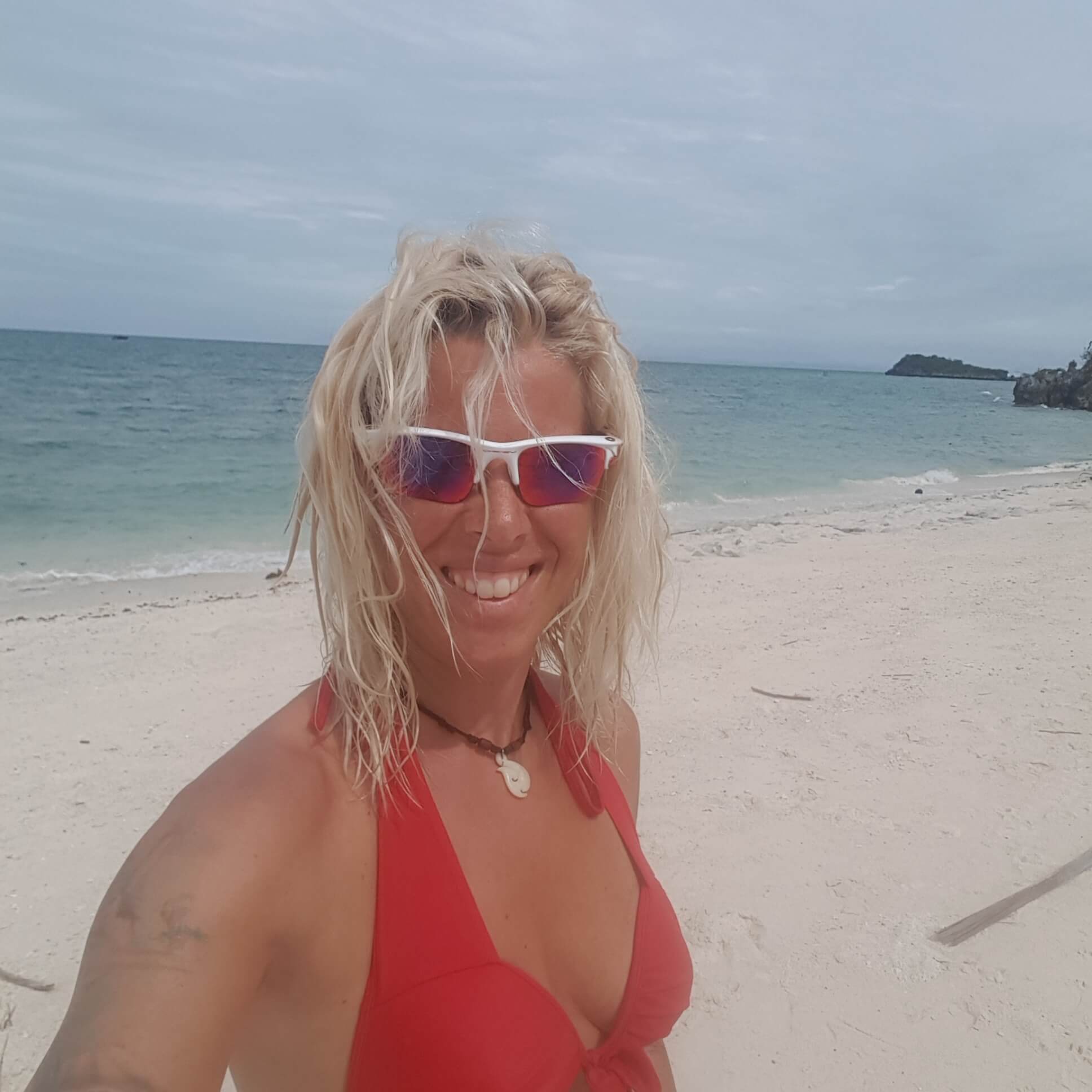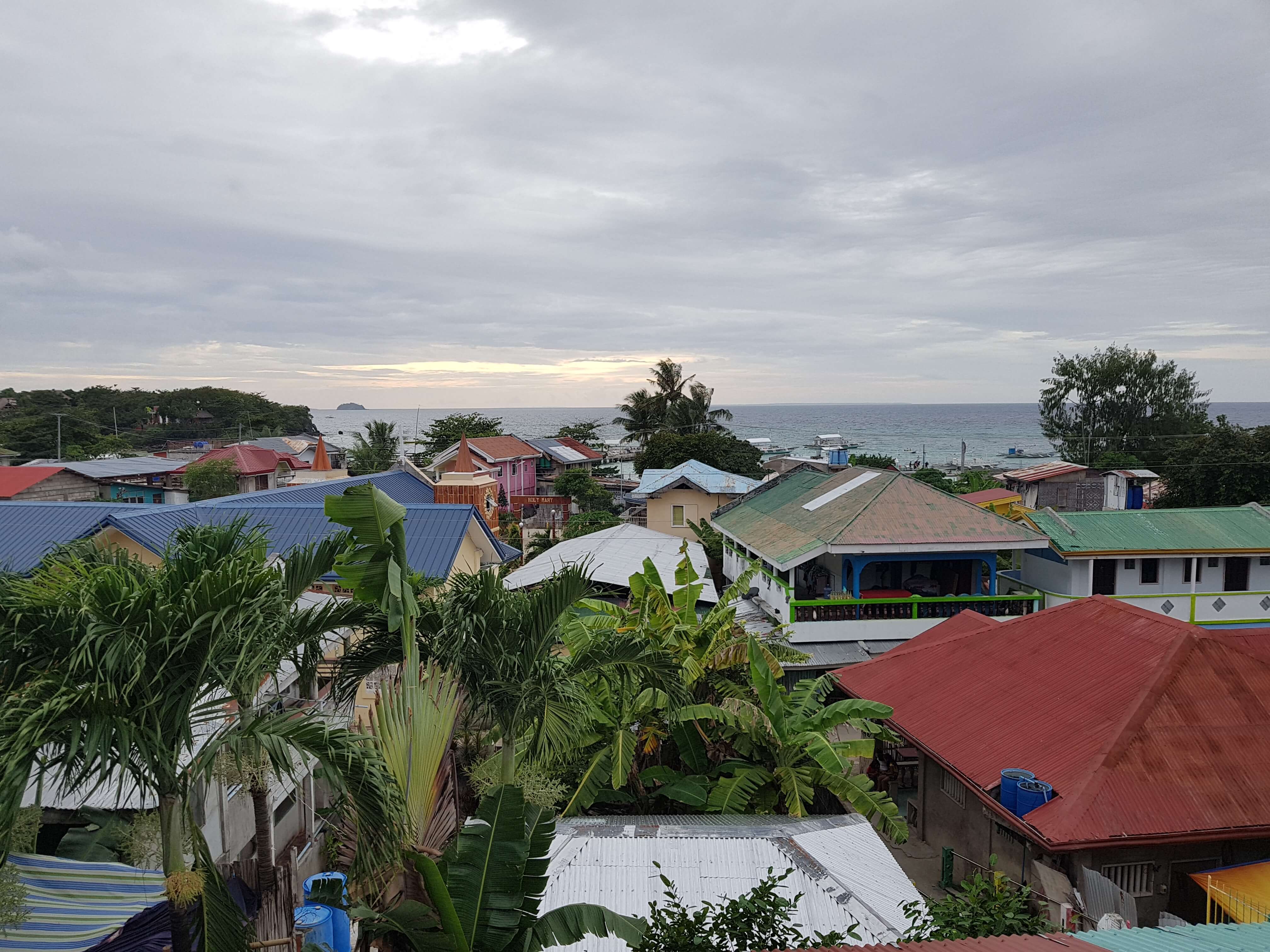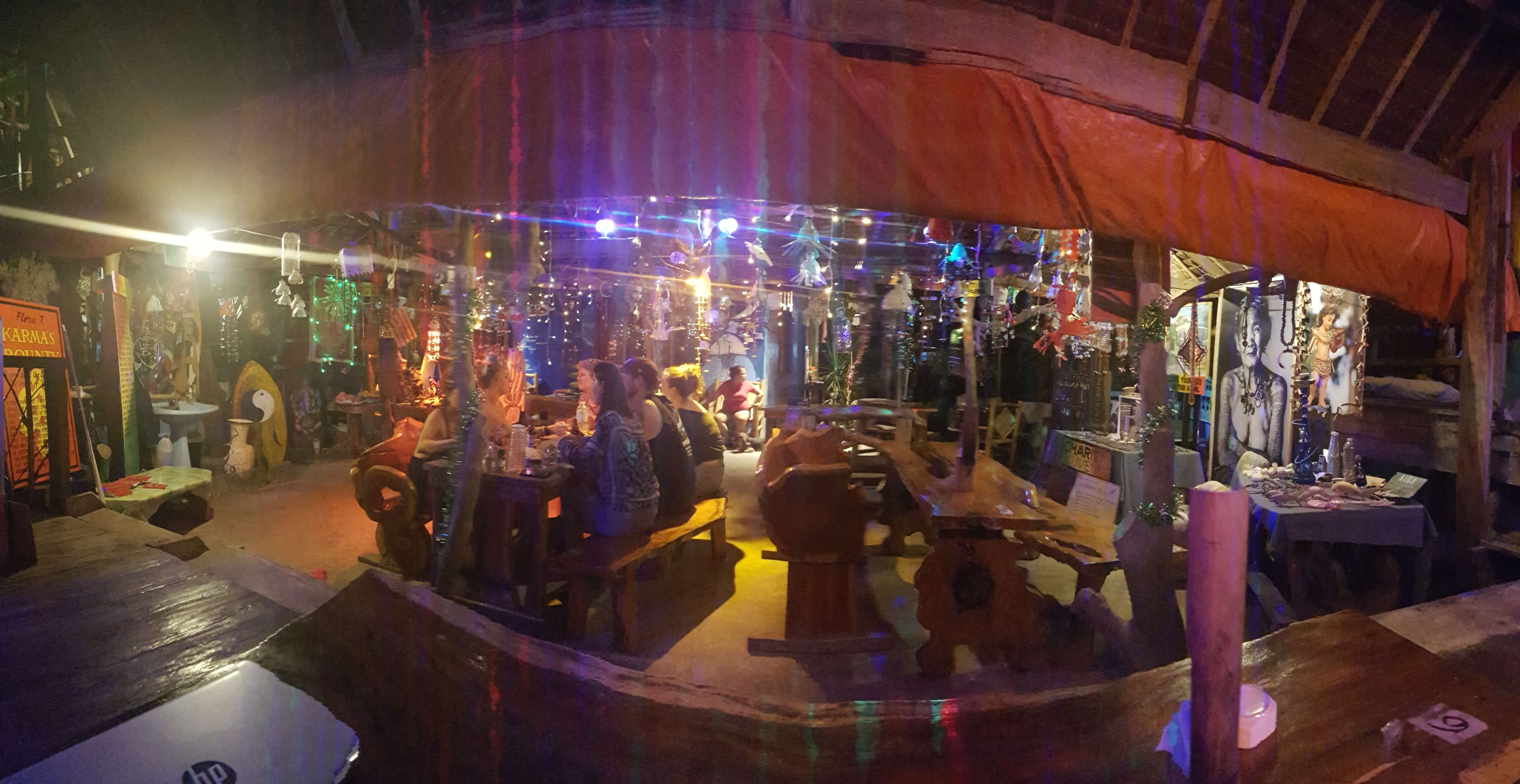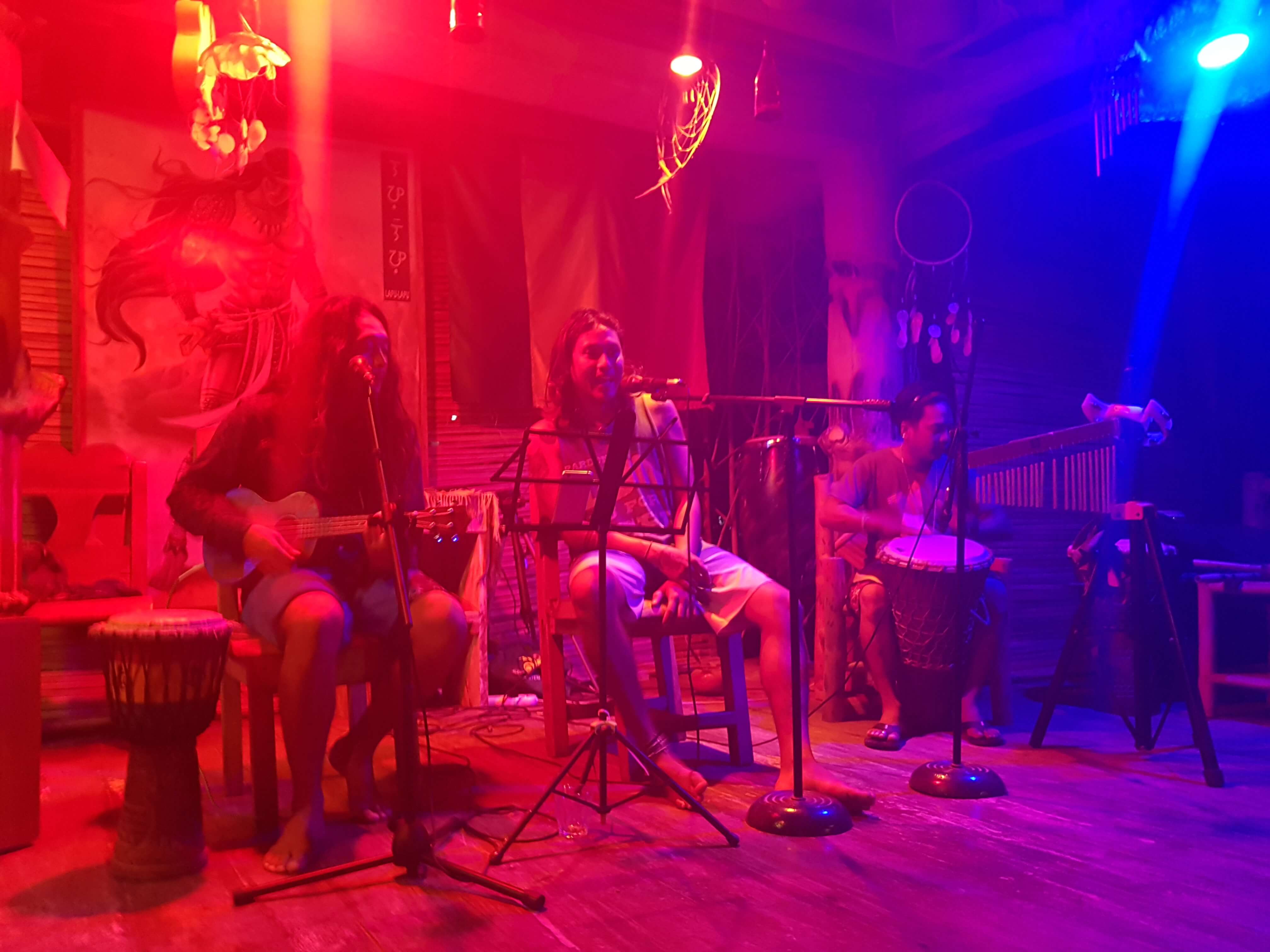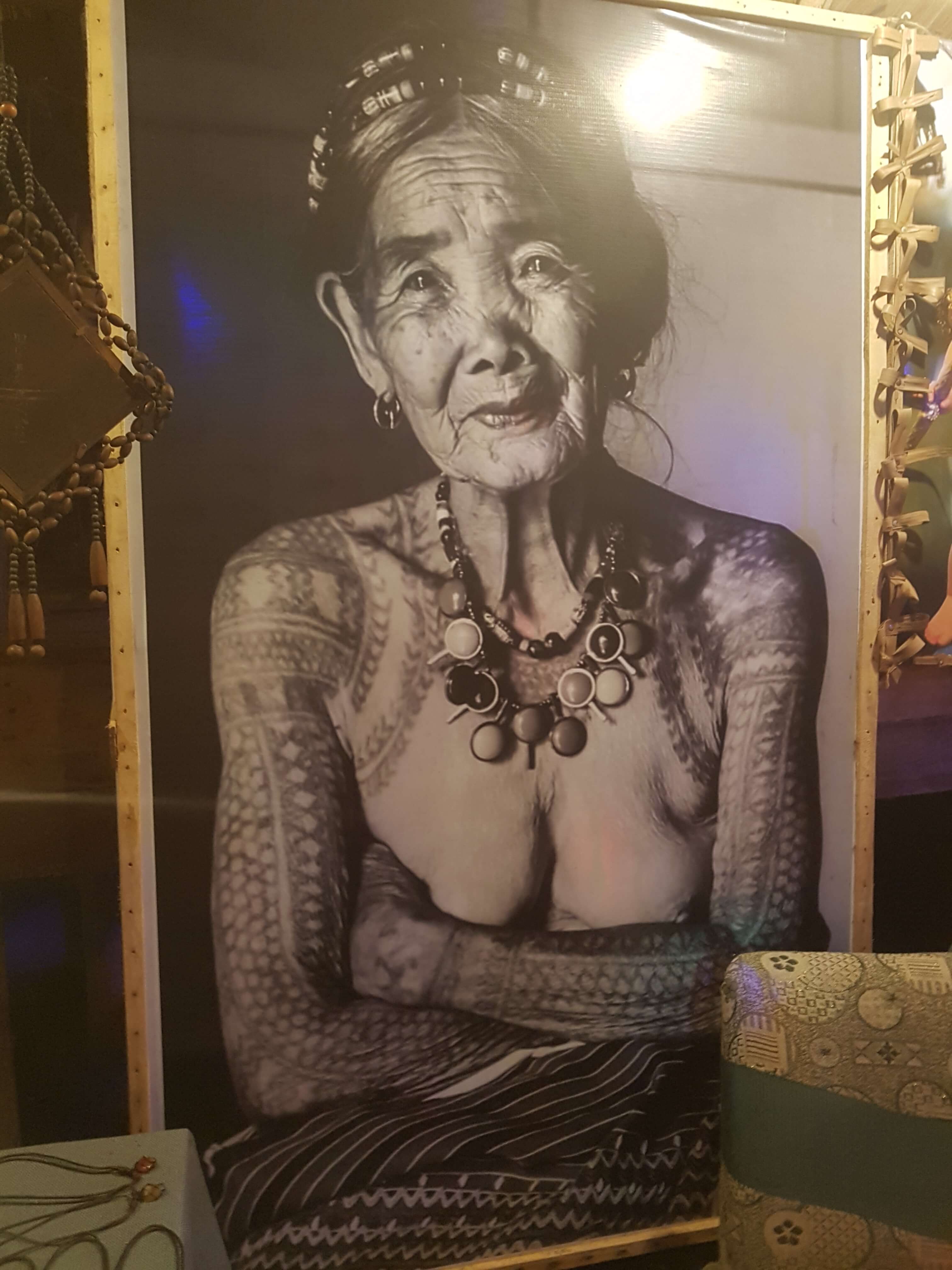 It was still worth it – Bounty Beach is beautiful – white sandy beach, palm trees and some great restaurants, such as B. Villa Sandra. A must for every backpacker, surfer, diver and hippie like me! Then there was finally something to eat for me… – Apropo…
to eat:
That is the only thing I strongly criticise about the Philippines. It is a real disaster. Meat wherever you look. Meat, white toast and white rice are the standard meals of Filipinos. Since I attach a lot of importance to food and eat healthily, mostly vegan and full-fledged, it was very complicated for me. I have to starve. – The Filipinos are still at the very back, which is also noticeable in the state of health of the people. Obesity and diabetes as well as heart disease are spreading rapidly here. Unfortunately, people here are not yet aware that this is largely due to nutrition.
But here, too, there are people who are aware of this and who turn it into a business with passion and offer healthy quality food.
Since I wanted to meet with a friend on Camiguin, I am right on the 2nd. Day to the next island – Siargao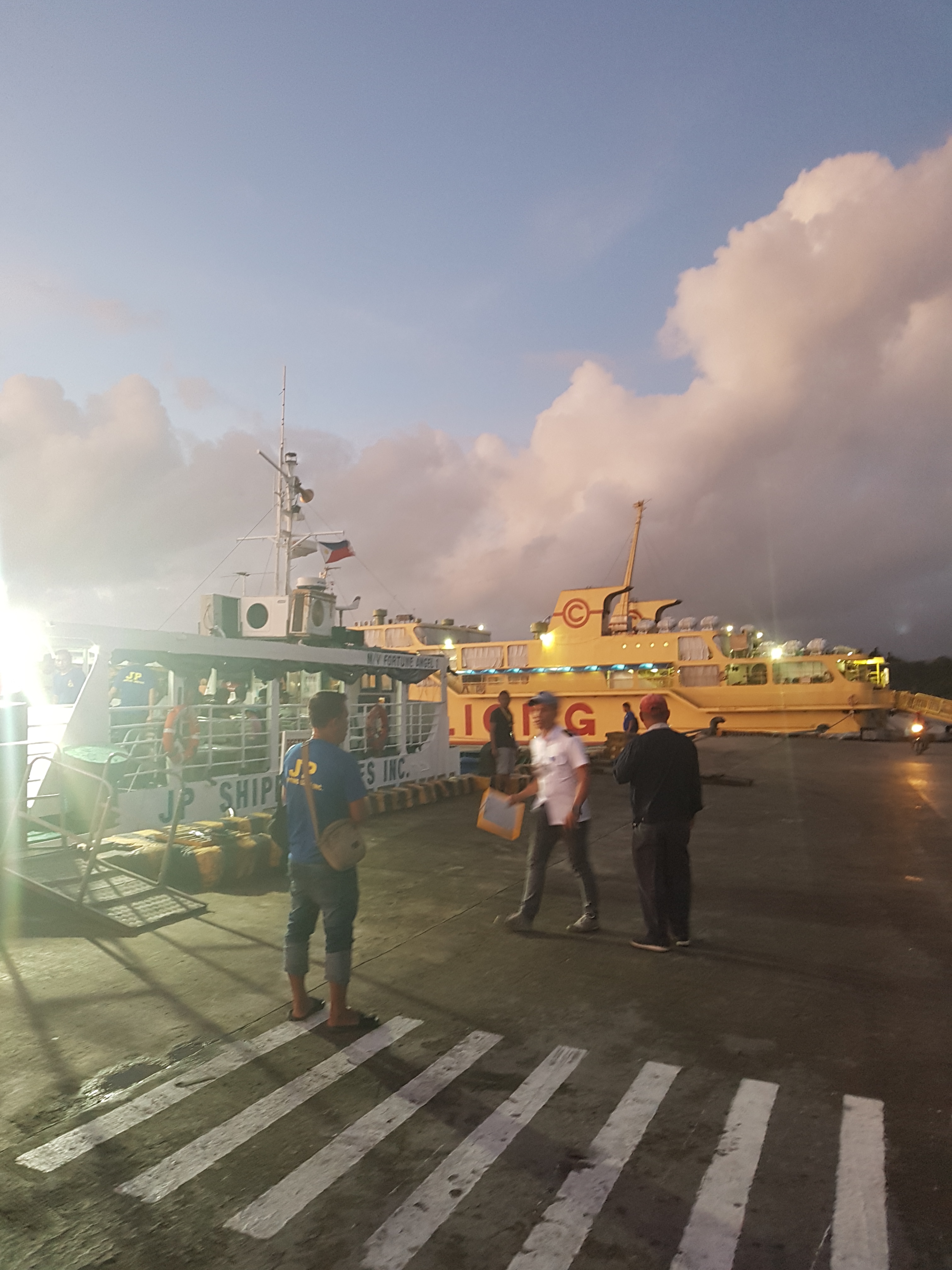 Siargao Island
In Cebu City I bought a ticket in advance at the port one day before i left by boat. First to Surigao, a crossing of approx. 8 hours in the dormitory with approx. 50 double beds, which was not very complus-cheap for this. We arrived in Surigao in the middle of the night at 3.30 a.m. and two hours later we went on by boat to Siargao. Arriving there at 9 o'clock in the morning, I immediately got a scooter for 350 pesos/day and then reached my final destination at the Pacifico in the "Calypso Surf & Dive". Great cheap and nice accommodation. And – no internet… – which is also quite nice!
A beautiful dream beach on the Pazific and very quiet. There wasn't even internet reception here. For this a white sandy beach as from the picture book with crystal clear water. And the surfer island par excellence. I'm immediately on the beach to my beloved ocean.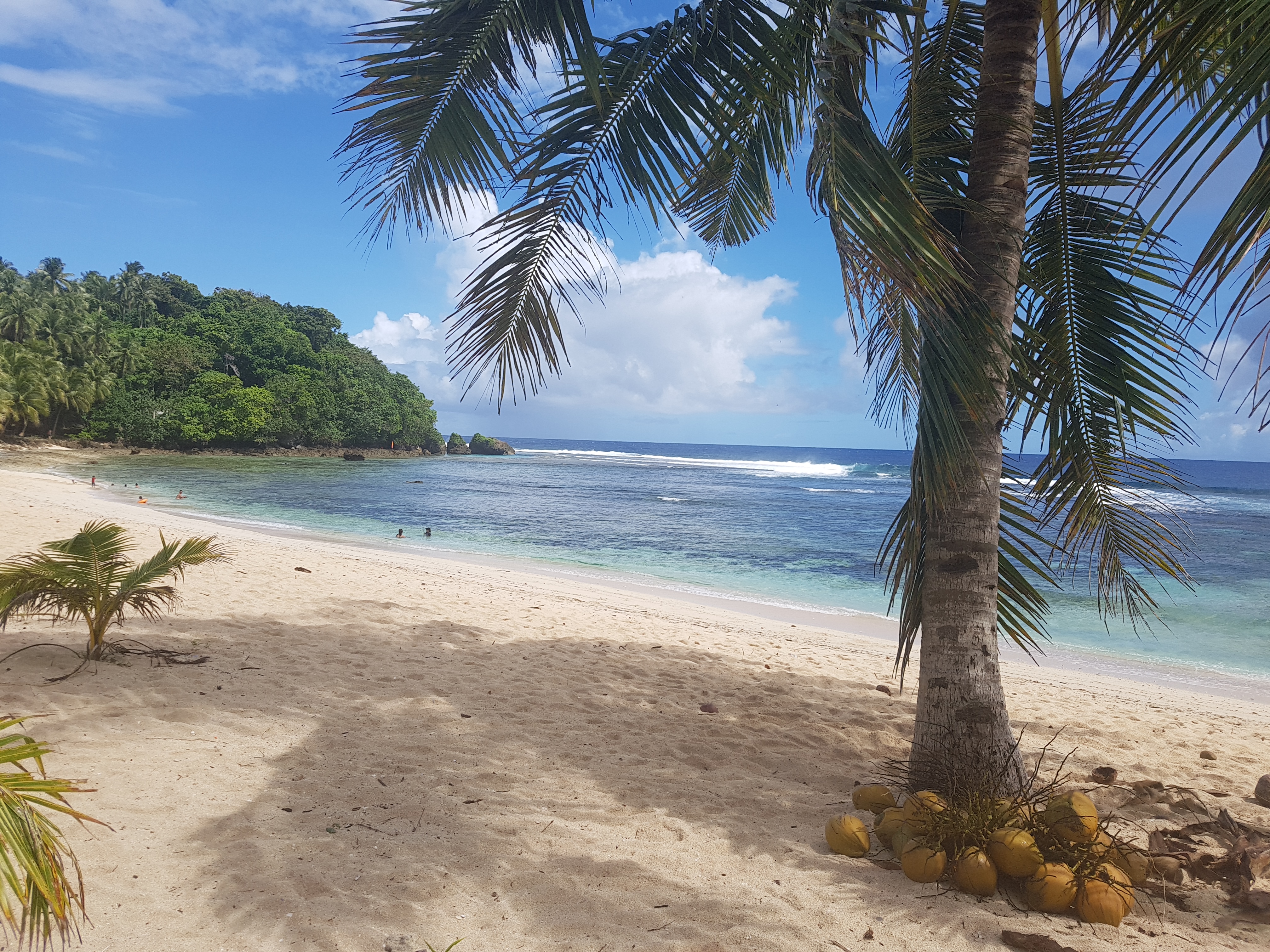 It's super hot and I immediately feel on the skin that my skin is sun weaned and I have to be careful when I'm not having a sunburn on 1. want to have a day.
I immediately found the surfer beach and a surfing lesson with Rodin identified a young 18 year old surfer. In San Isidro everyone knows everyone and the youth plays basketball here in the evening, as everywhere in the Philippine islands, the favorite sport.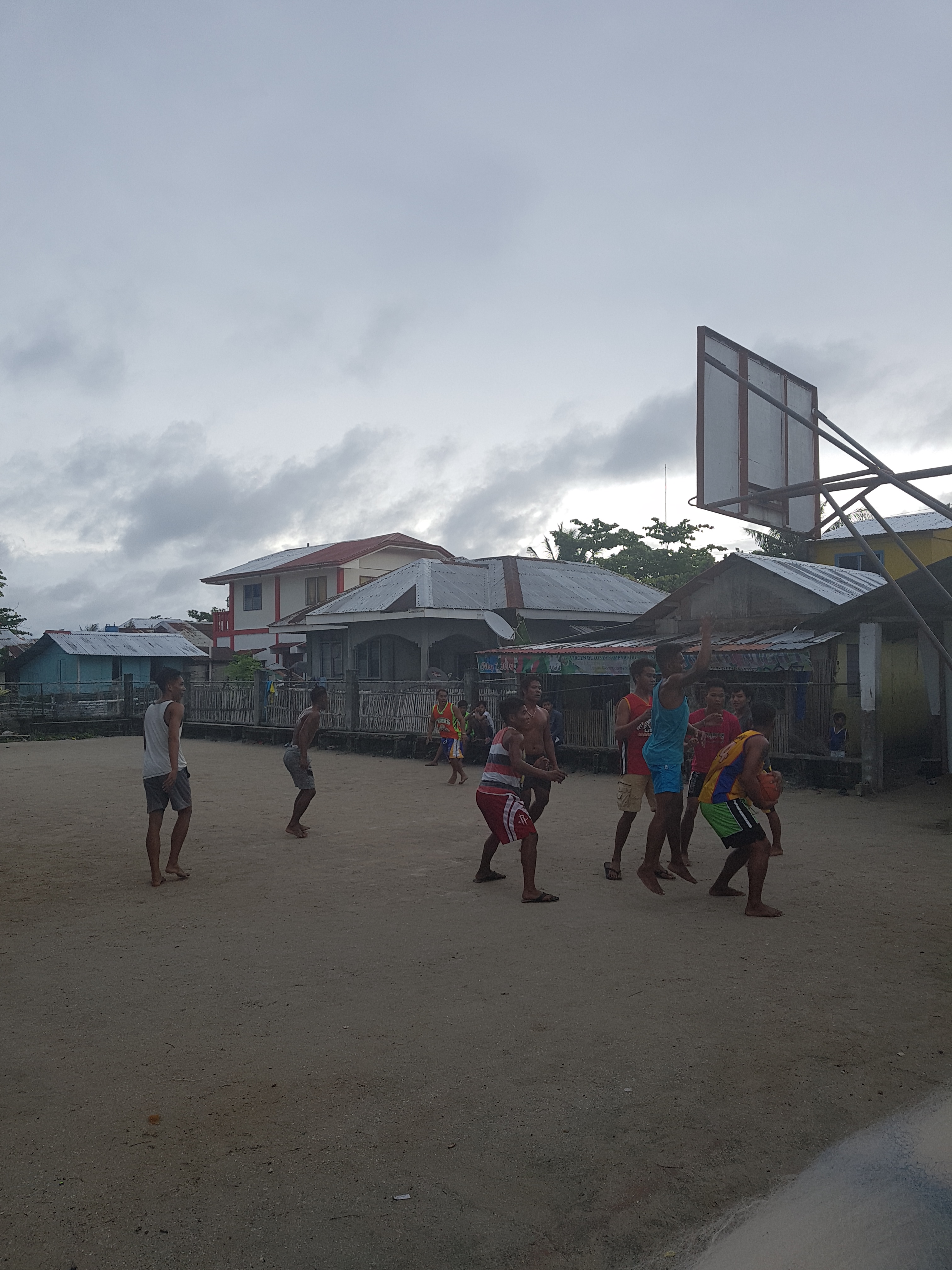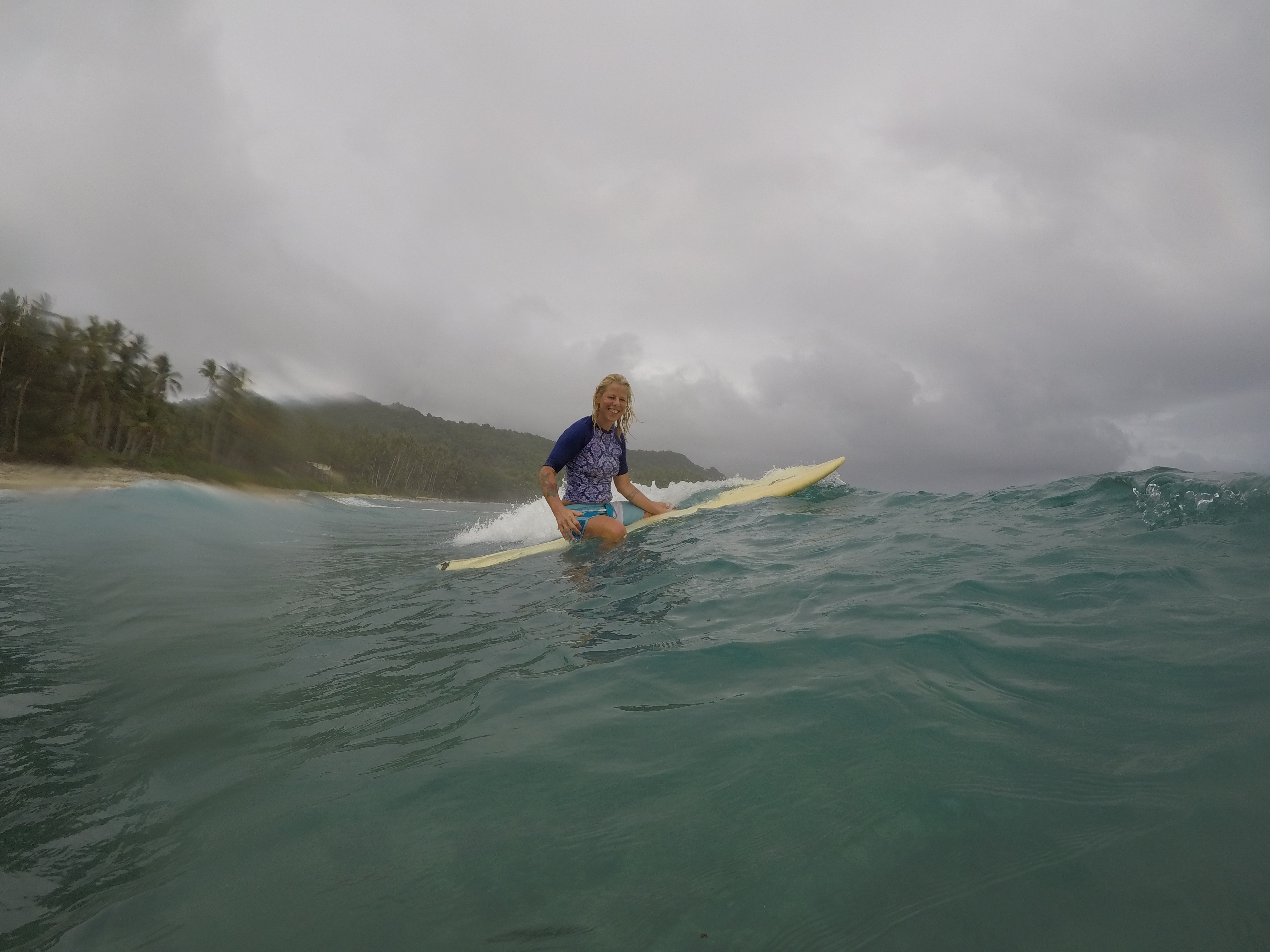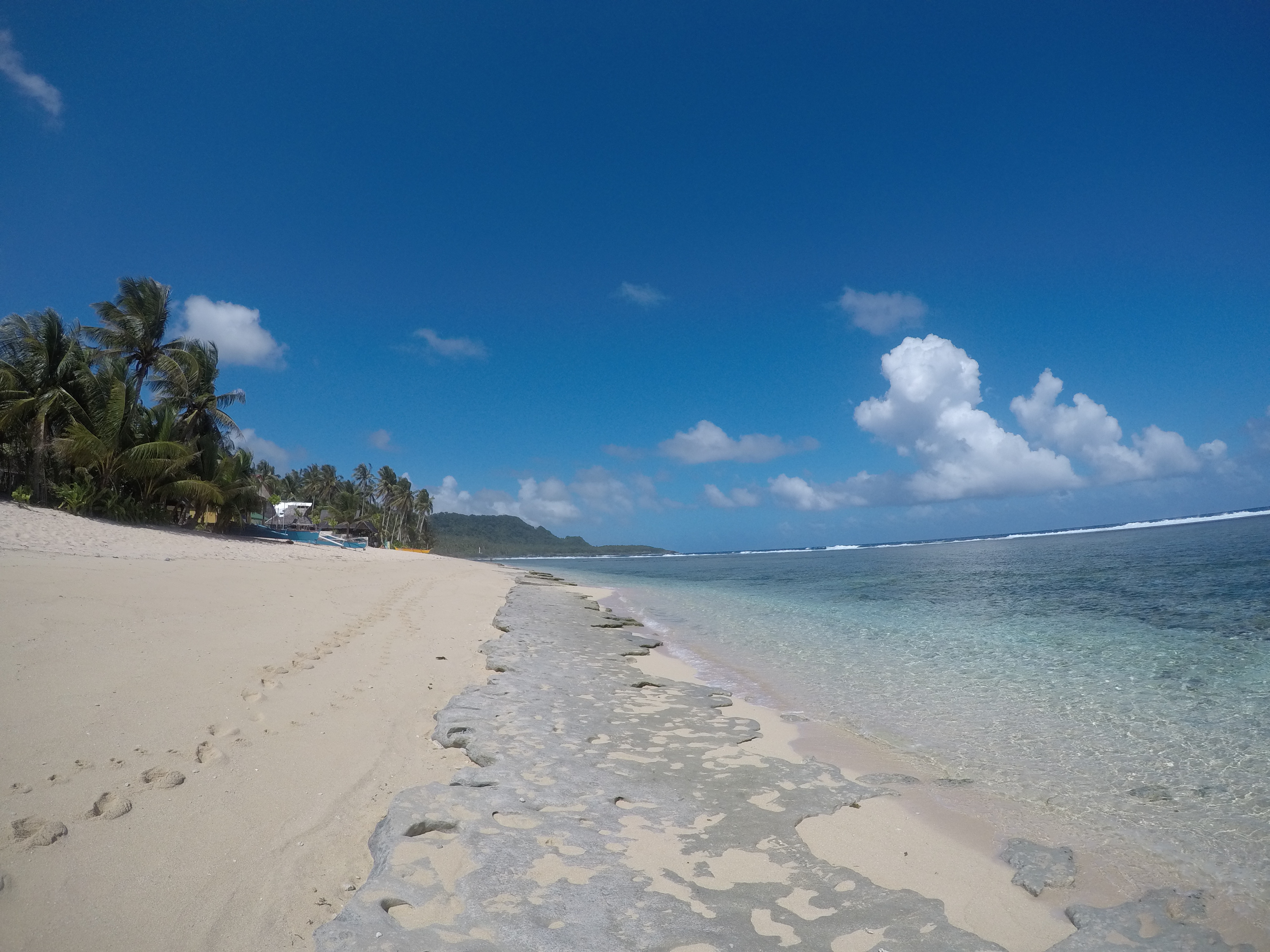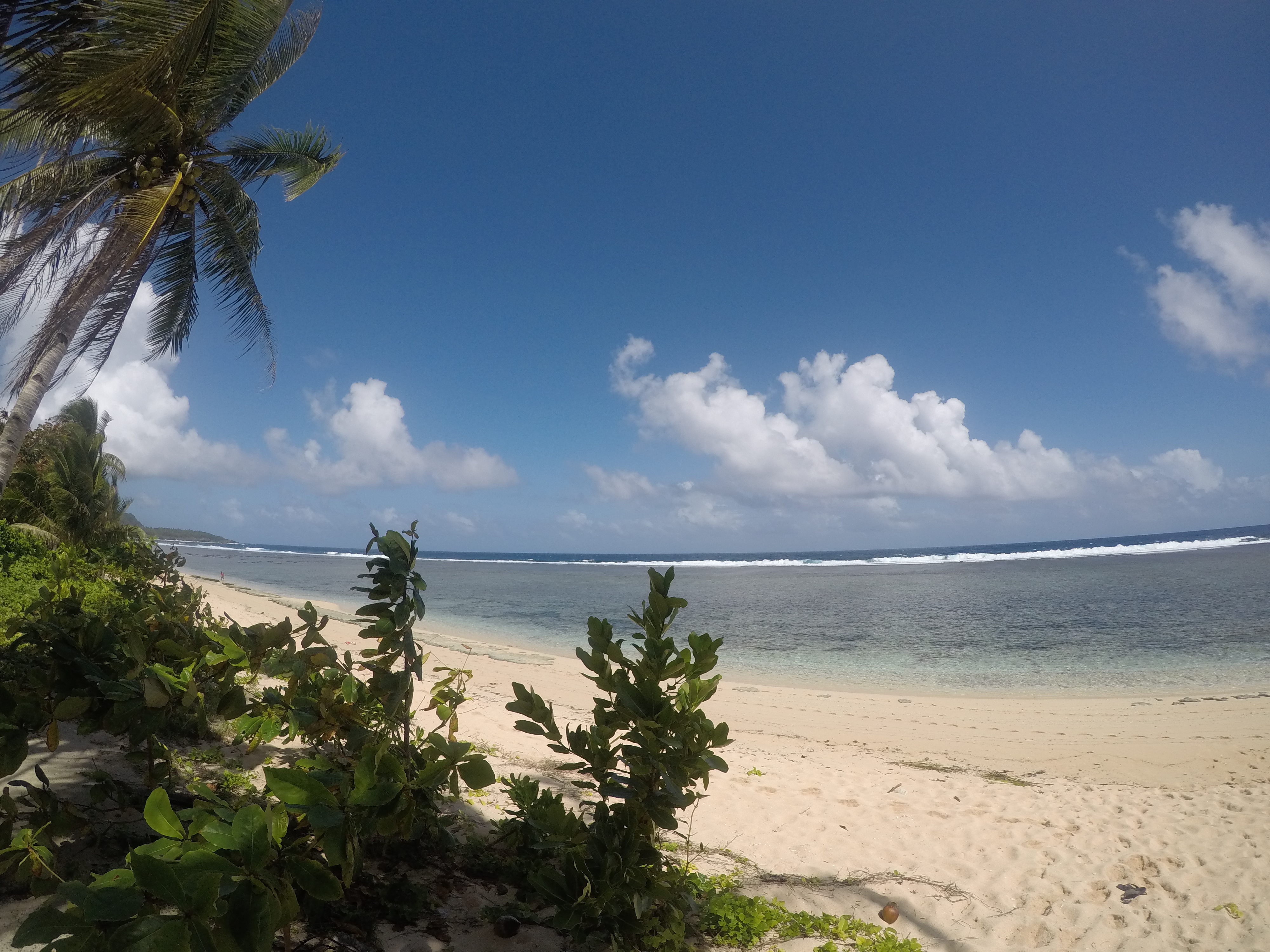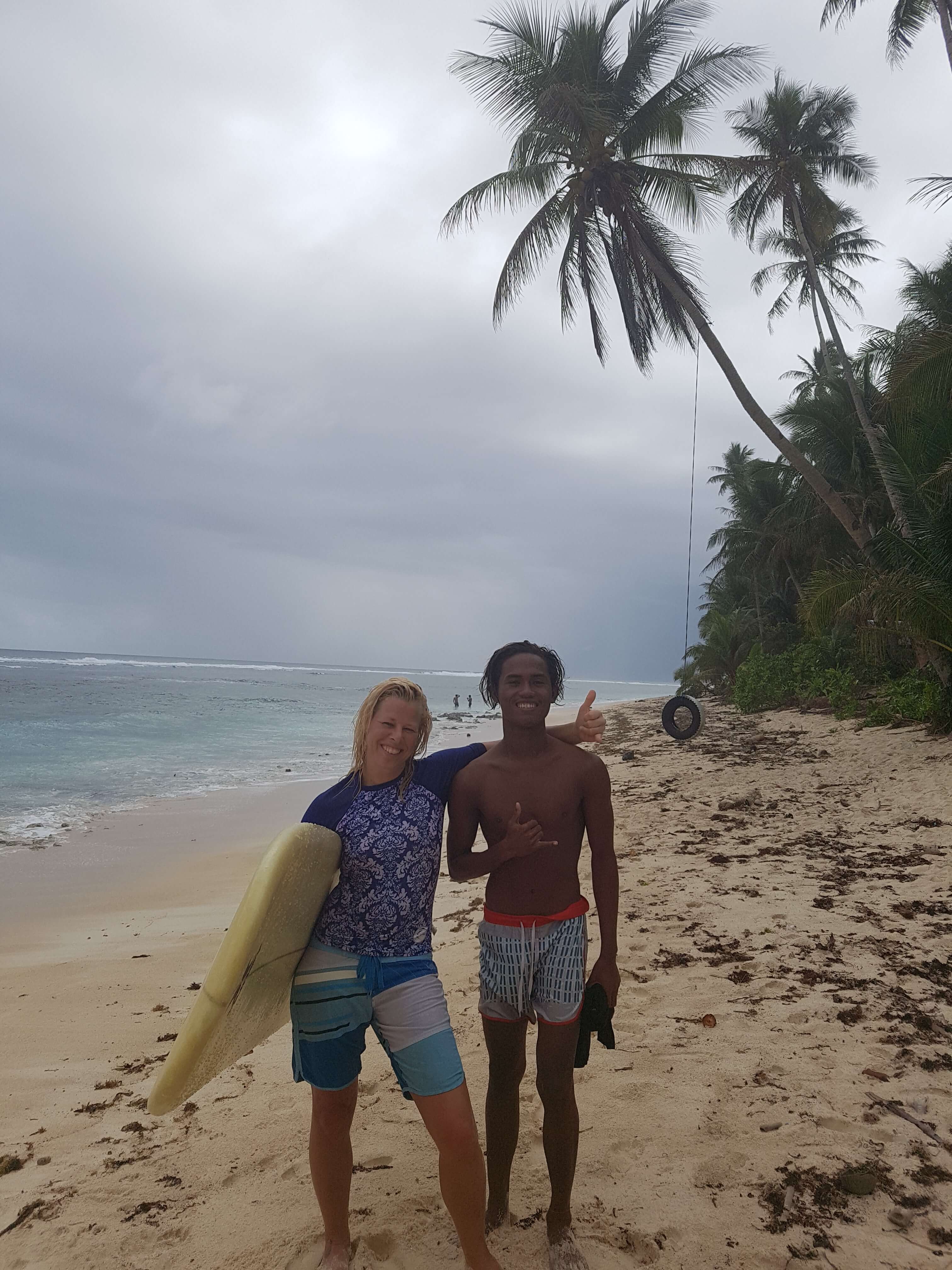 Beth a mother of 2 children offers here privately food and massage, which I still enjoy on the same day.
The Surferlesson on 2. Day was great and I'm right after the 3rd. wave. They are really beginner waves and so I can slowly get used to the waves again. Perfect for me with a 6 foot surfboard. Board and teacher for 500 pesos, is not a bad deal.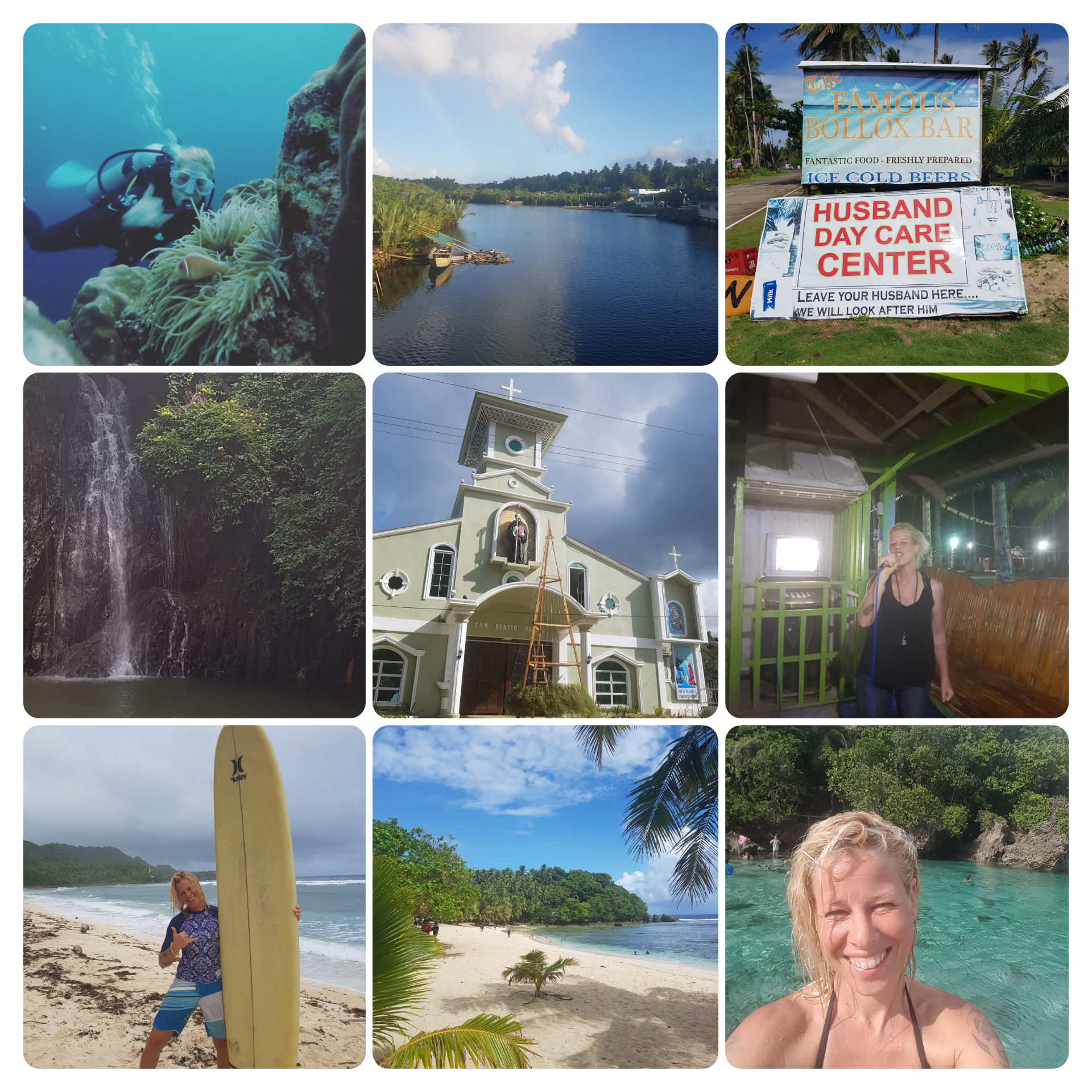 On 2 May, he was a no-one. Day I circled the whole island with the scooter and enjoyed the wind and the sun. In the evening I went to sing karaoke with Beth, her daughter Leameah and her cousin, as well as husband and son. – The Filipinos are true world champions in karaoke singing. And they sing great.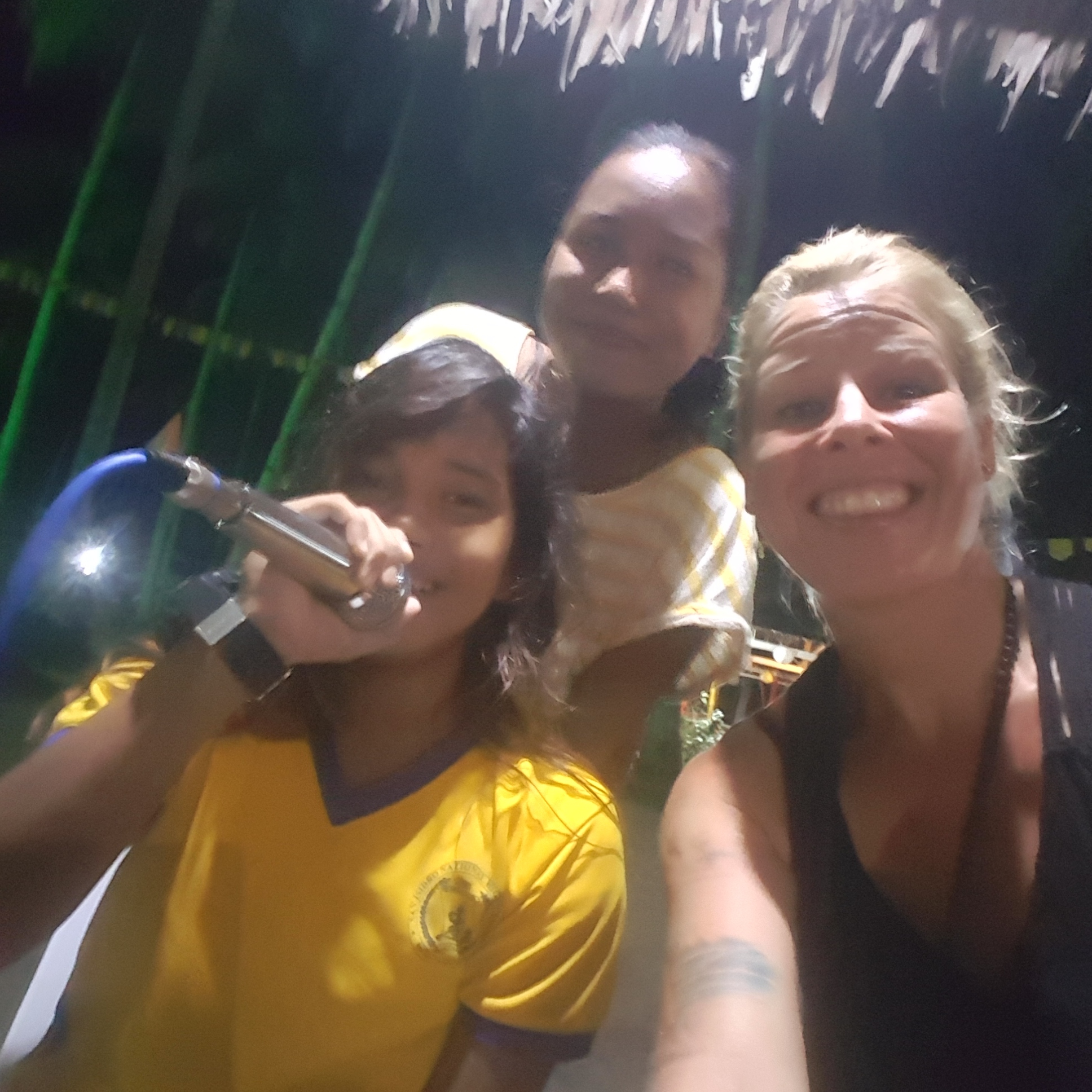 The next surfing was very successful in terms of the waves, but unfortunately I jumped awkwardly off the board and bruised my ribs. This is something very long and because of that I could neither continue to surf nor do yoga myself.
On the last day I met Kieffer and Rika, who were in the same guesthouse as me. We then got together and drove towards General Luna, the main and touri place of Siargao. On the way we visited the Rockpools (Magpupungko) and marveled.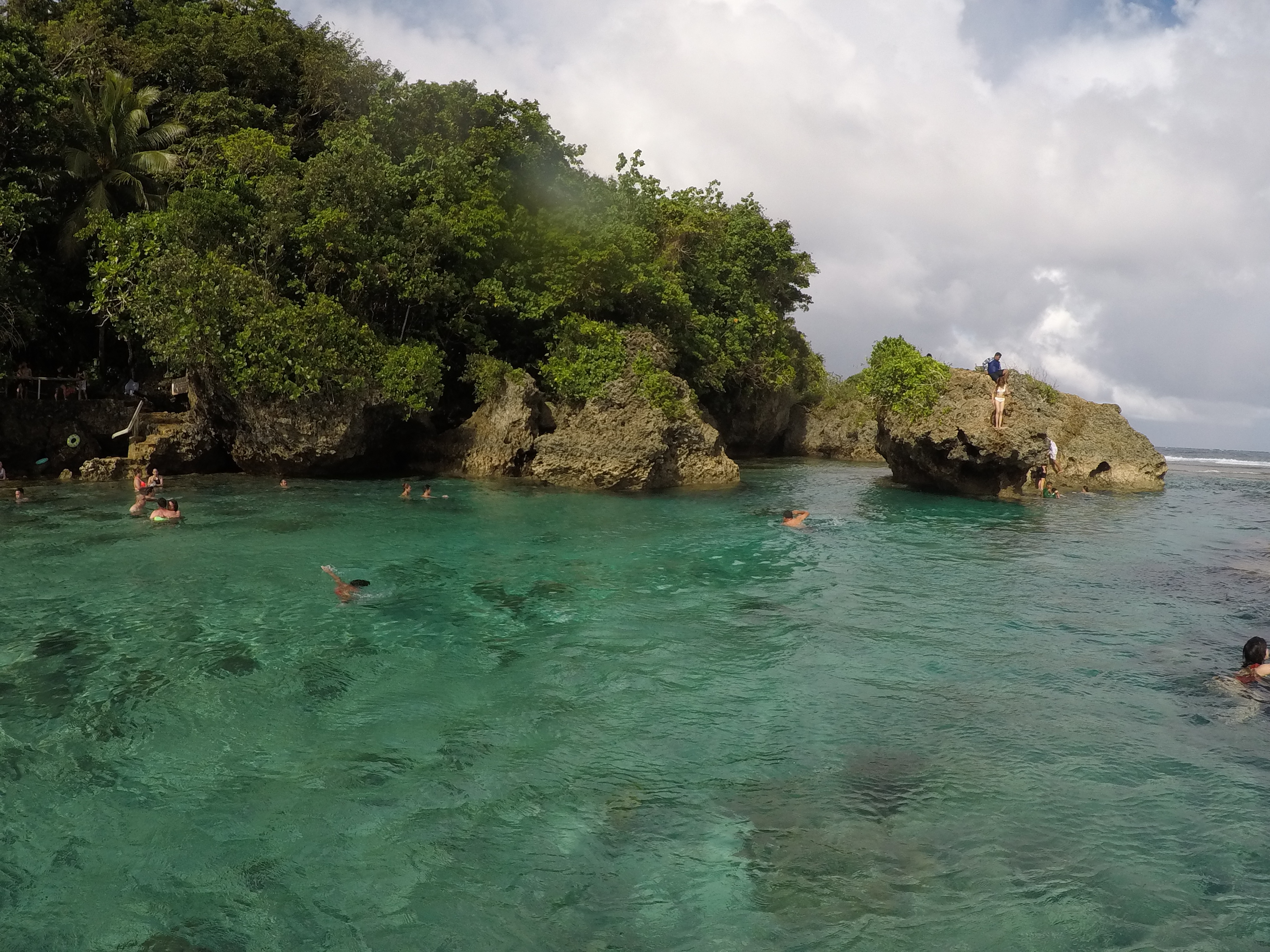 Since it was very late and started to rain, we took a room there together.
The next day we went together to "Cloud No. 9 – The famous Surfer Beach. There's something for everyone. (Beginners, Advanced and Professionals)
In General Luna, the locals were much more prepared for the tourists, so that there were quite great restaurants and even vegan.
And again I made Filipino friends. Strangely, I don't get in touch with other backpackers this time. Which is nice, because you learn so much more about people and you get to know.
Camiguin
Unfortunately the last day has already arrived and I have to go back to the pier to go to the next island. – Camiguin. I would like to meet my friend Tori, who has been there for 4 days and is already a bit bored.
The crossing from Siargao to Camiguin is a bit more complicated than thought. I had hoped to arrive on the same day. But the ferry to Surigao did not leave until 10 a.m., because the 5 o'clock ferry was too early for me. So I took the bus down from Surigao to Belingao and didn't arrive until 10 o'clock in the evening. I spent the night in a super-cheap simple place to stay for 200 pesos. That was absolutely ok for me. And the next morning we went straight on to Camiguin. For 30 pesos then a van into the city and from there Tori, my girlfriend from Munich, picked me up. It has an insanely great accommodation, The Hilltop Paradise with views of White Island.
The crossing from Siargao to Camiguin is a bit more complicated than thought. I had hoped to arrive on the same day. But the ferry to Surigao did not leave until 10 a.m., because the 5 o'clock ferry was too early for me. So I took the bus down from Surigao to Belingao and didn't arrive until 10 o'clock in the evening. I spent the night in a super-cheap simple place to stay for 200 pesos. That was absolutely ok for me. And the next morning we went straight on to Camiguin. For 30 pesos then a van into the city and from there Tori, my girlfriend from Munich, picked me up. It has an insanely great accommodation, The Hilltop Paradise with views of White Island.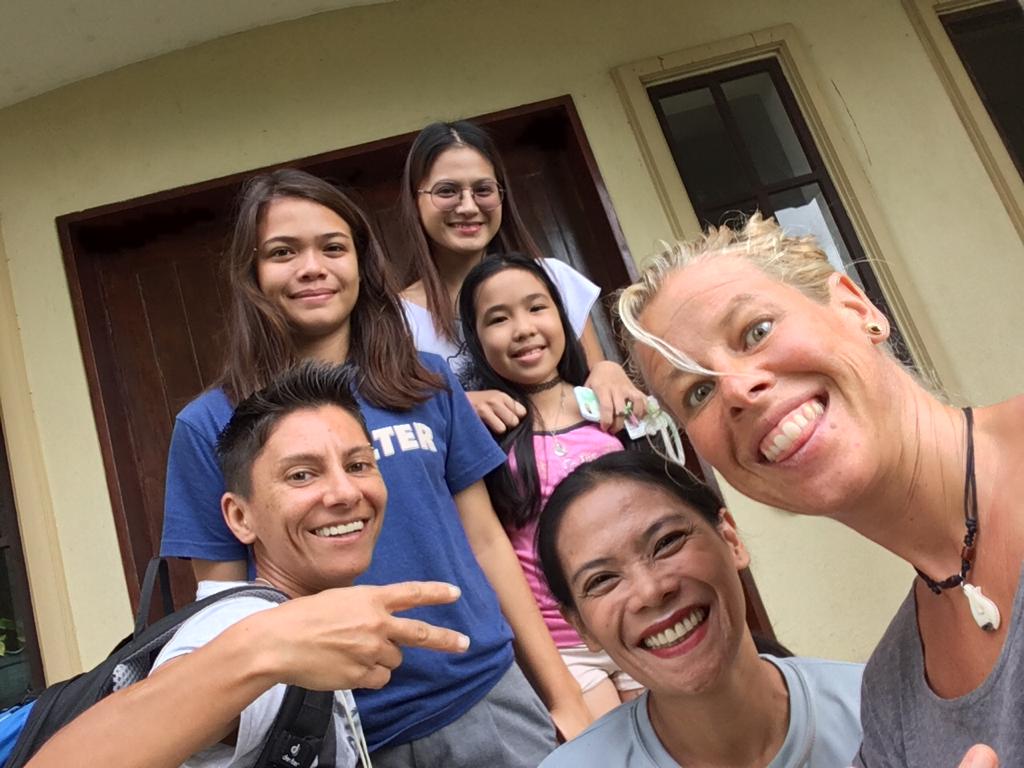 Camiguin is beautiful, beautifully green and a volcanic island where you can hike beautifully but also dive or just snorkeling trips.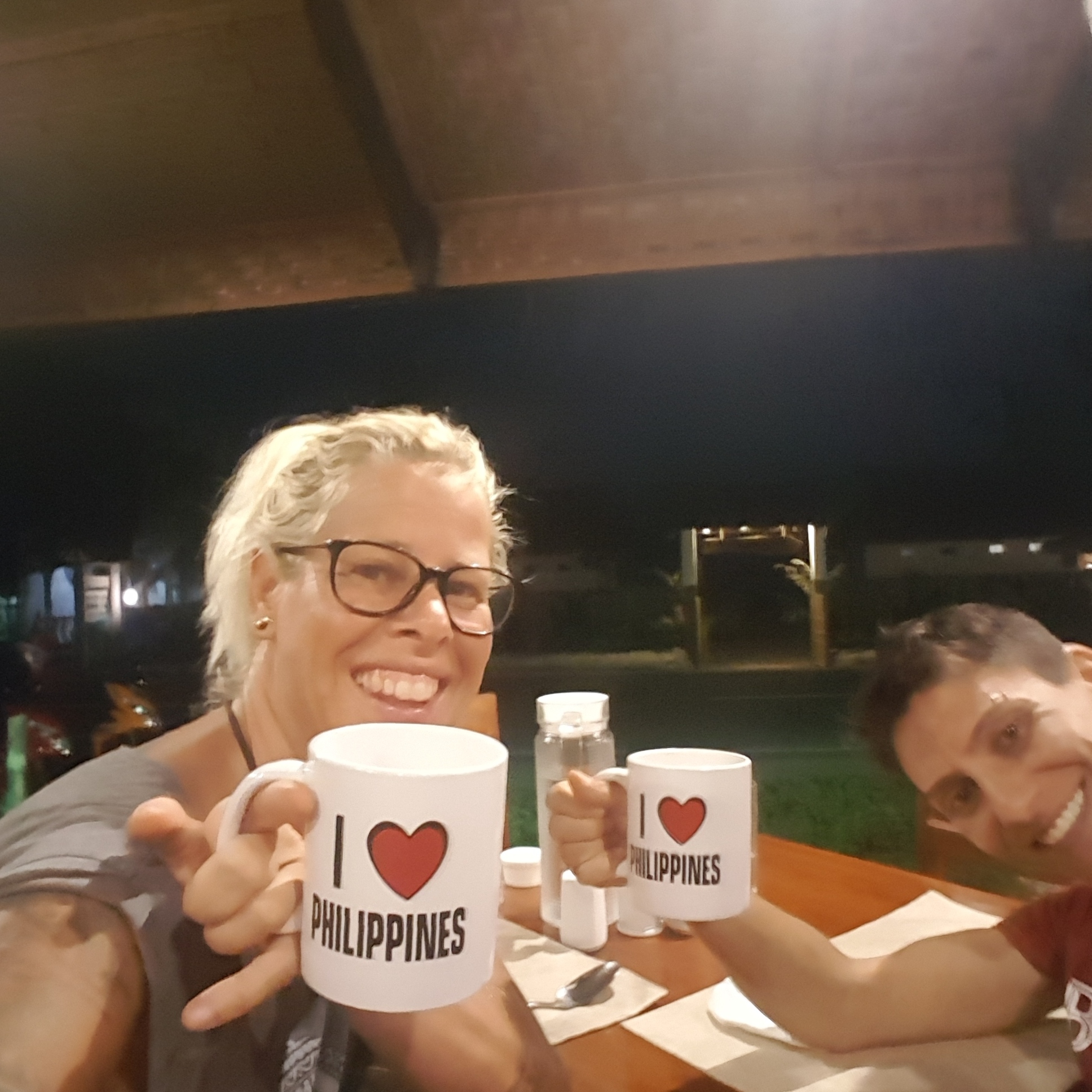 One of the trips went to the "Giant Clams". These giant mussels can be seen here in a basin and you are told what it is about the giant mussels. What I found impressive is how mussels reproduce. Because mussels have eggs and sperm and thus reproduce themselves.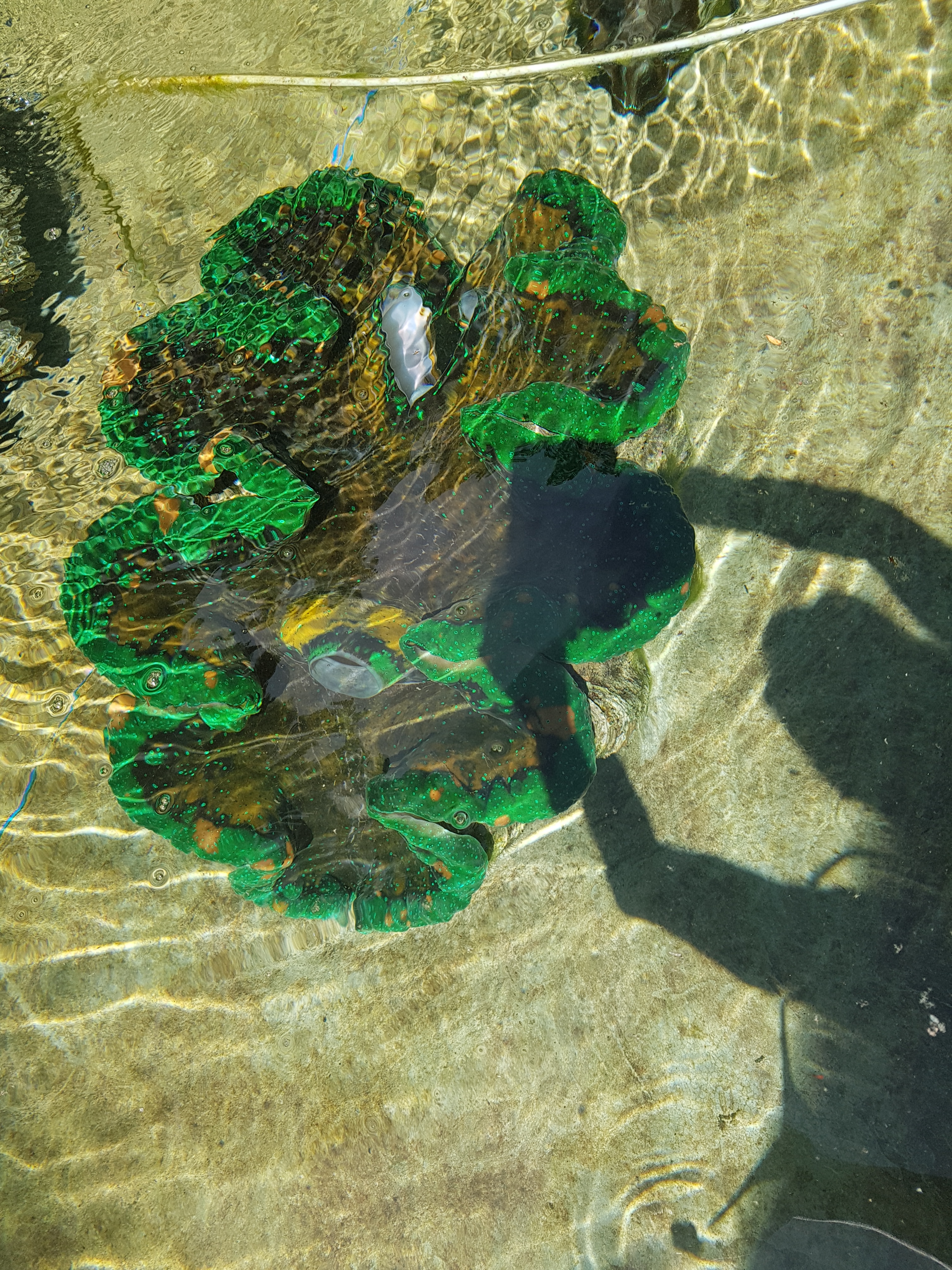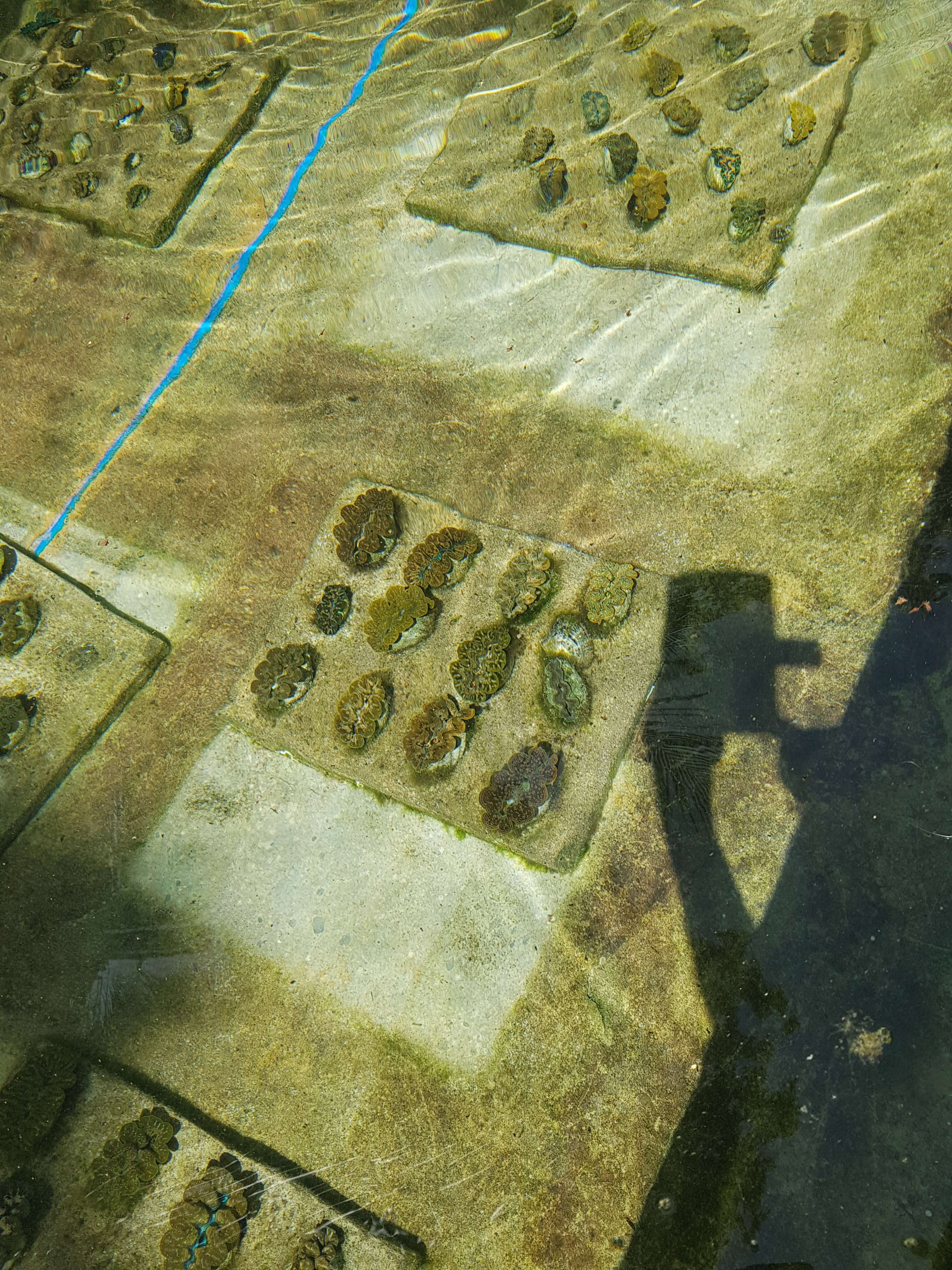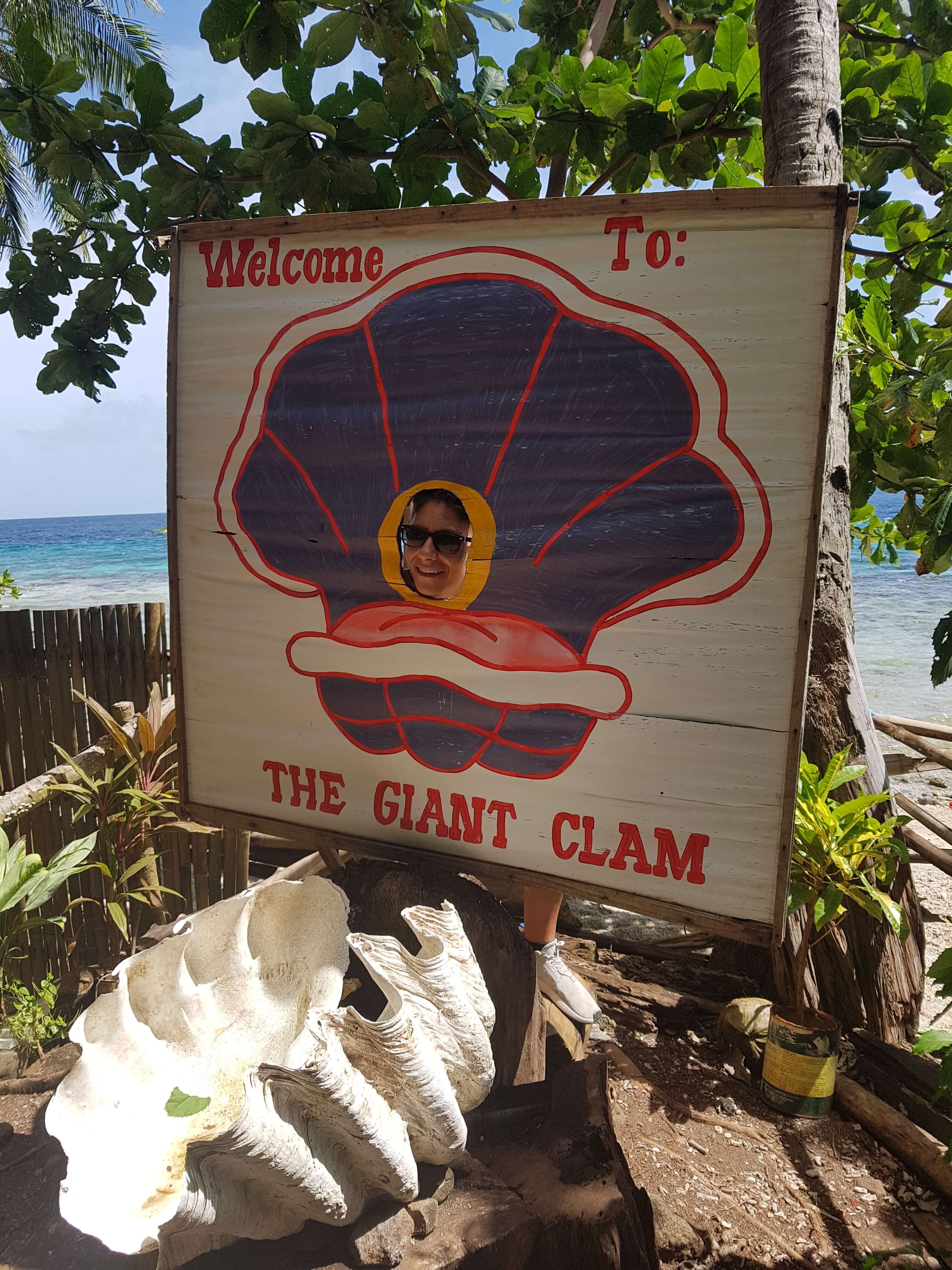 The 2nd Excursion went to the Old Vulcano on which you can hike up. (30 min.) and on whose way the Passion of Christ is used in various images or figures is displayed. From the very top you have a wonderful view and a breathtaking sunset.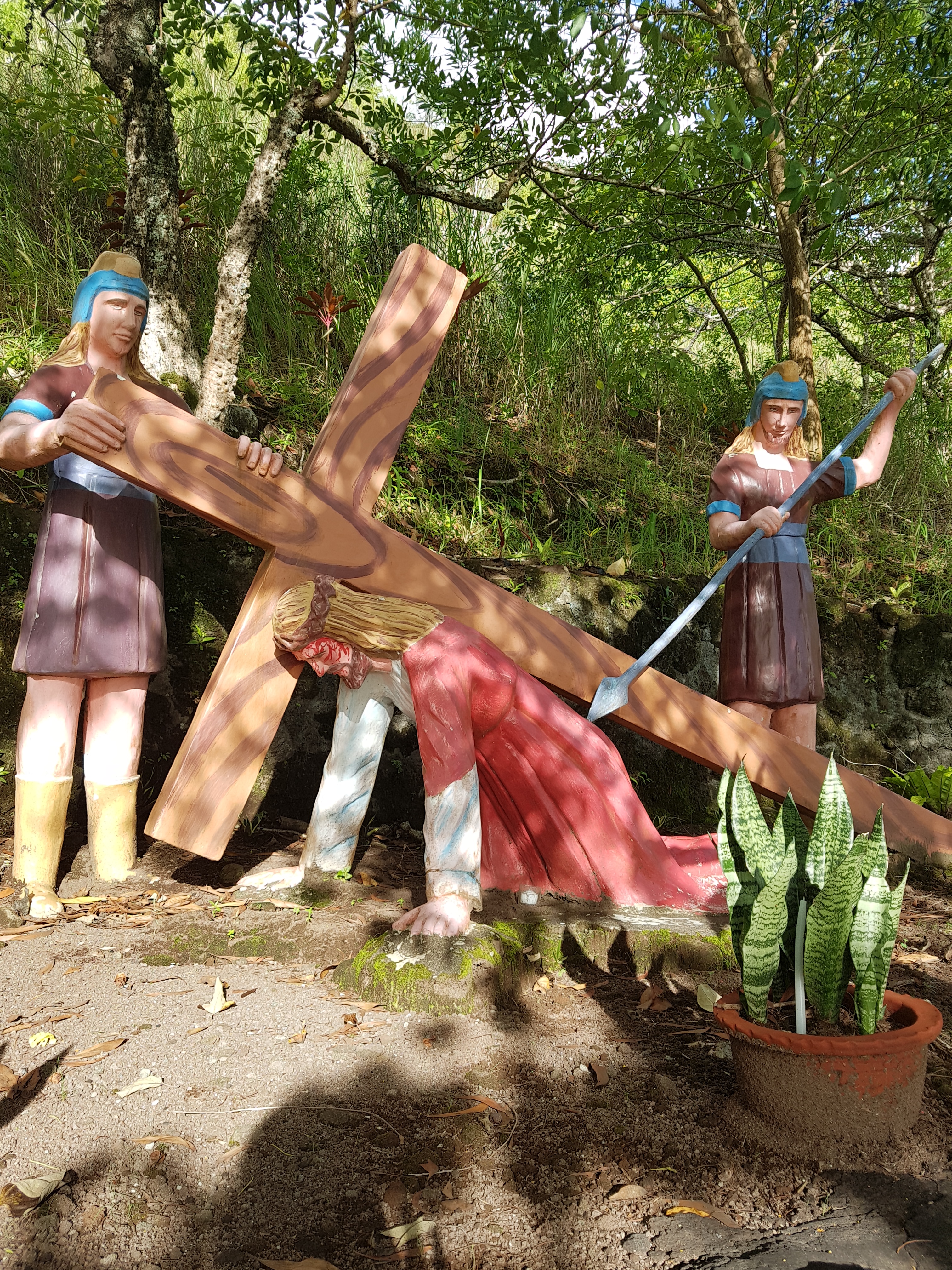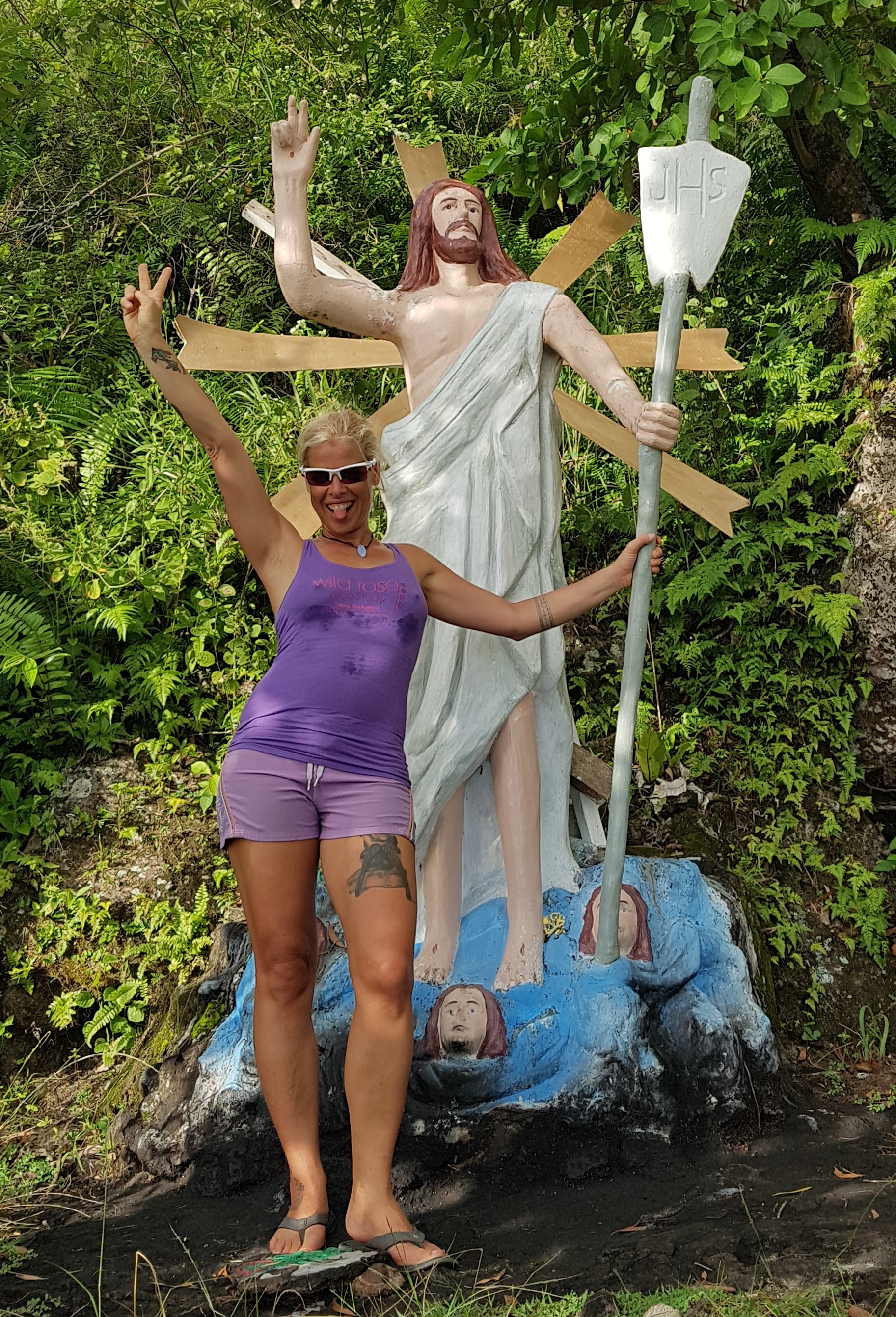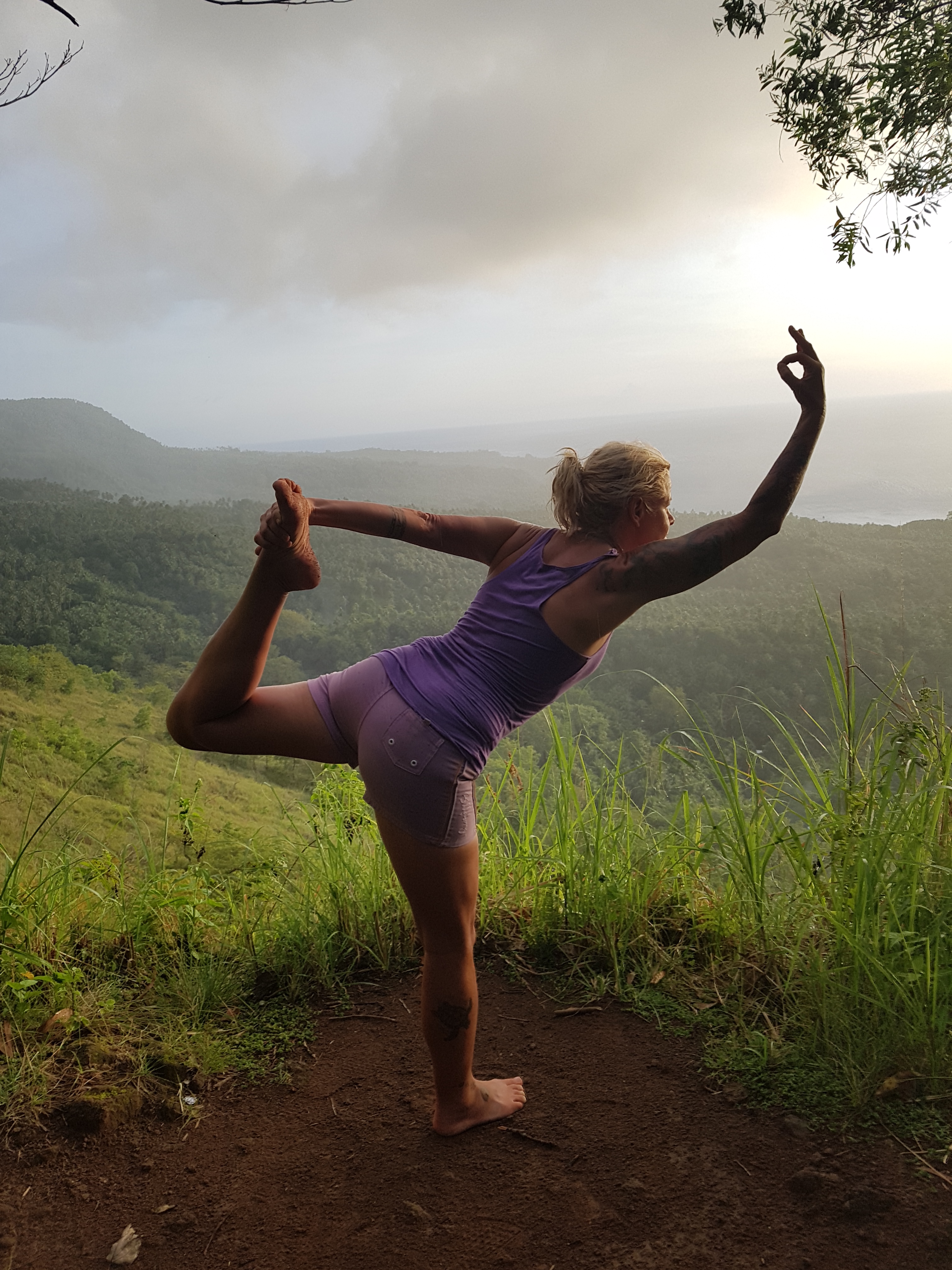 "Mantique Island" and is approx. can be reached in half an hour by boat. There you can snorkel wonderfully. – One of the best snorkelspots I have ever experienced, as there is a reef with corals and many colorful fish.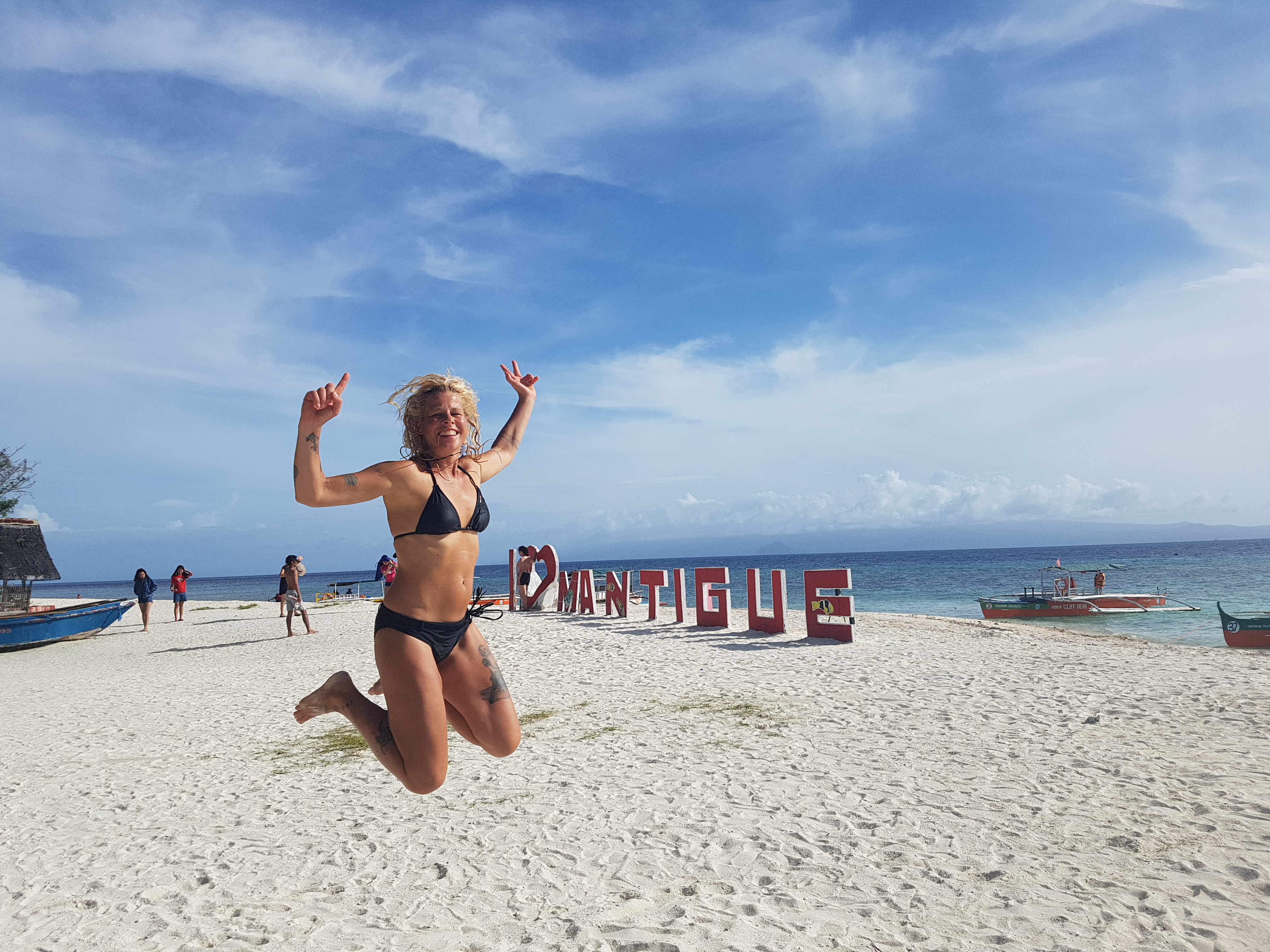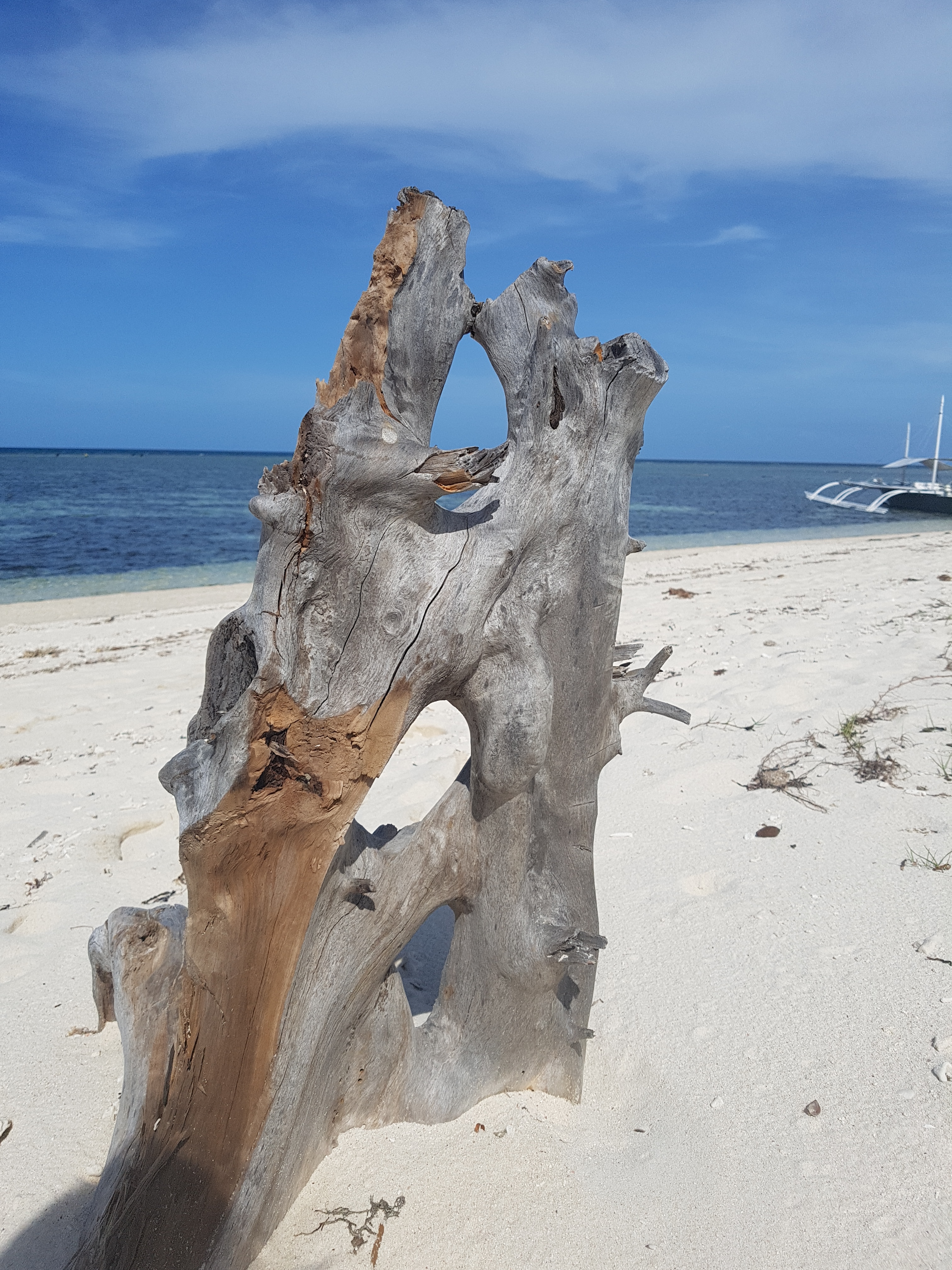 Then there are the Hot Springs. Warm spring water in which to bathe. On the day we went there, there was rainy weather anyway.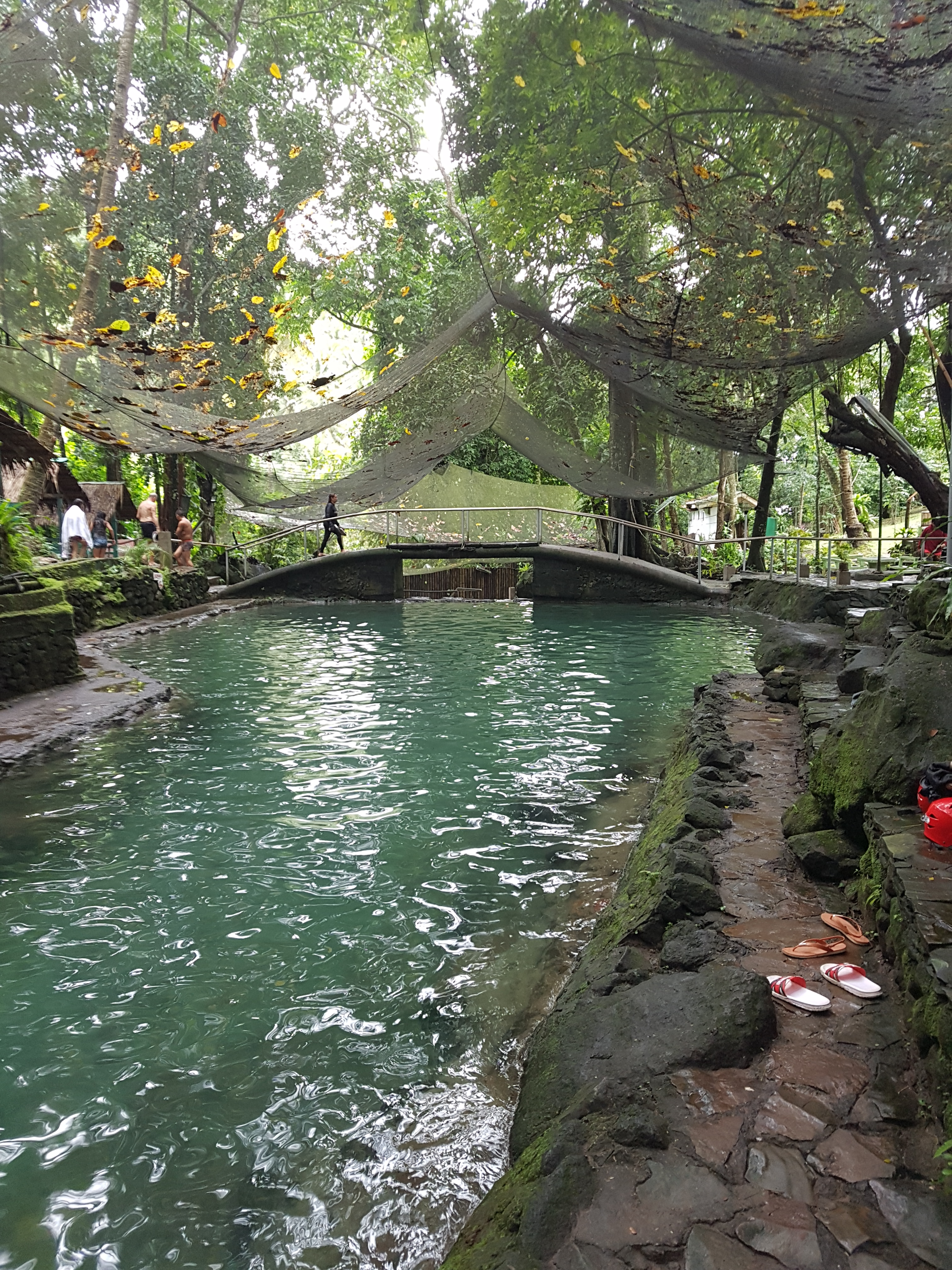 White Island was unfortunately closed because the small island was littered. The same thing has happened on one of the most famous Philippine islands – Boracay – so that the government has spun the entire island for tourists for half a year. In time, everything was cleaned and regenerated and since approx. 3 months you can travel back to the island – but only with registered and booked hotel. No more debauchery and alcohol on the beach. Party island is a thing of the past. – Which was a good idea.
On the last day we visited a waterfall. For all attractions you pay here approx. 50 pesos admission.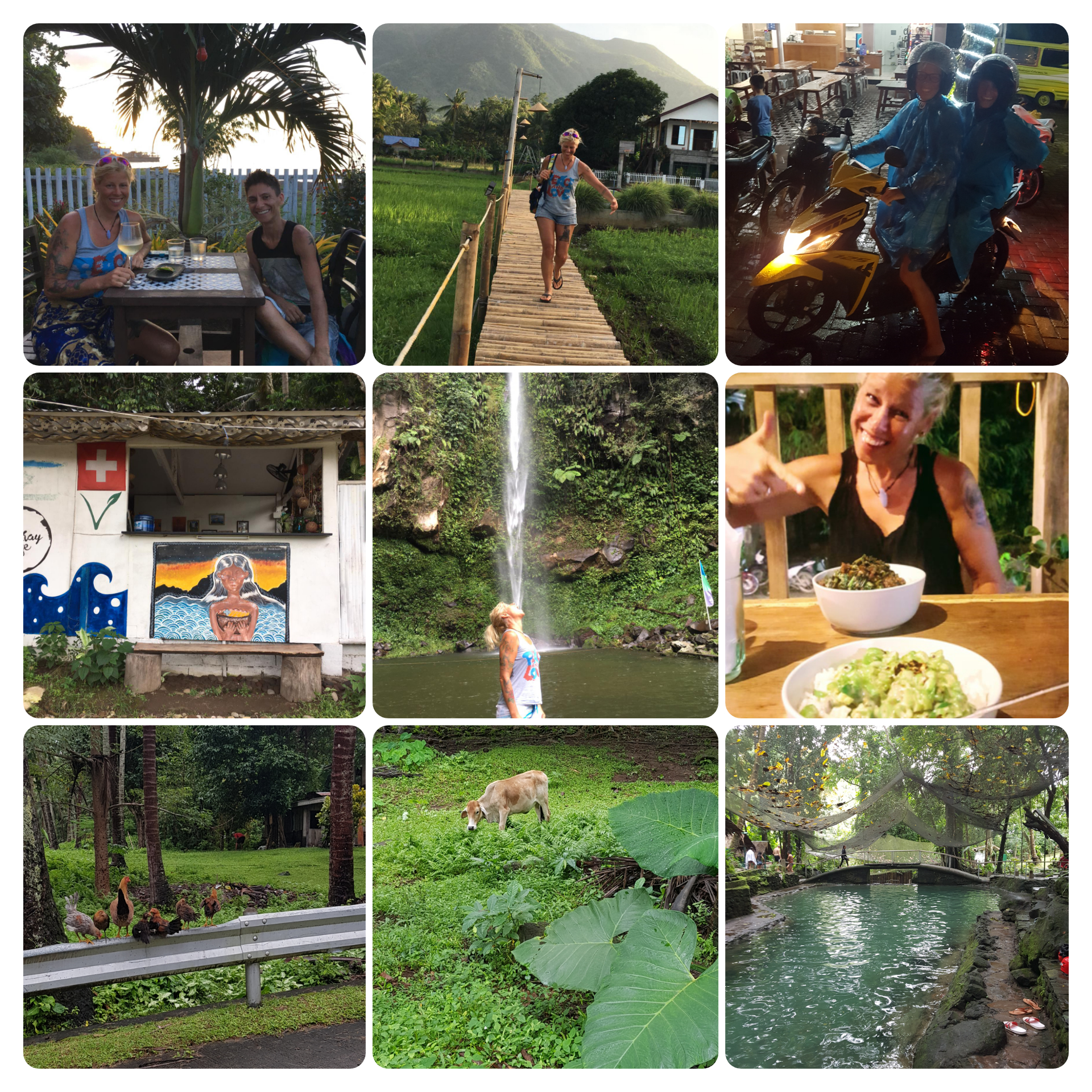 Definitely a worthwhile island. If you are fit and like hiking, you can make a strenuous day hike to the volcano here. However, that is too much for me. In general, I am a bit lazy and just enjoy nature and the sea. In addition, my rib bruise swells me, so I can't even do yoga.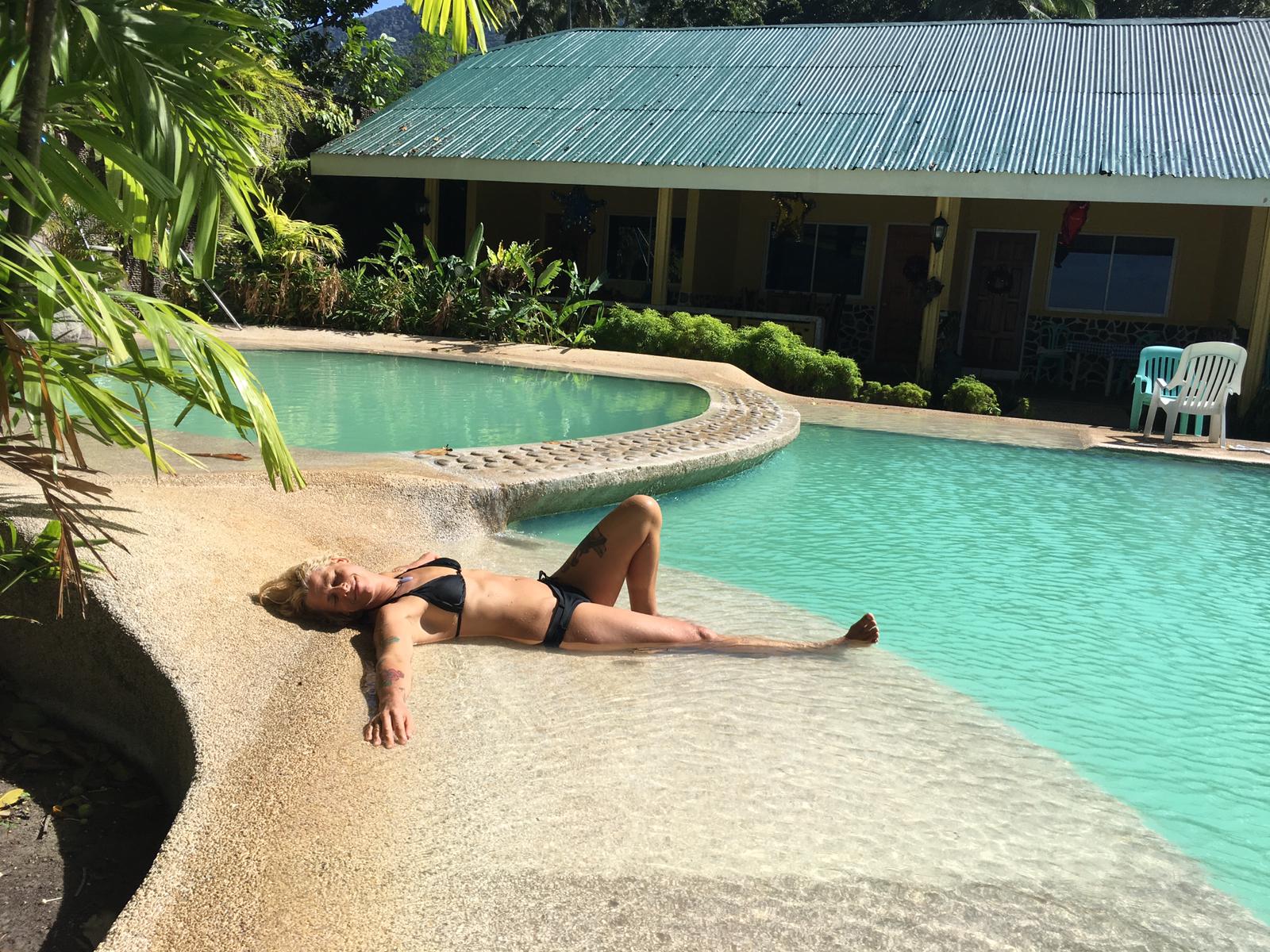 Before we flew back to Cebu, we had dinner at The Hayahay Cafe (Vegan) at Aitz and were quite happy to get sensible food.
Siquijor
Siquijor wrongly has a reputation for being a "Black Magic" island. There are Woodoo bars, but only for fun. In fact, the opposite is true. The island has a very good "spirit" and there are some real healers that can be found in the mountains. Unfortunately, our time spent on the island was not enough to find a healer to visit him. But I "interviewed" some people who were with a healer and received a very individual treatment. With healing acts, gifts of stones, chains, amulets or medicinal herbs. So we have also heard of "miracle cures" of cancer and hip problems. – Who heals is right. – That is the most important thing. Perhaps some may think, "all quackery." but the only important thing is that the one who believes in it and who has been helped is healed. But it's never the cure alone. Whether with a doctor, naturopath, psychotherapist or mental healer, if the change that is necessary to correct the cause of a disease does not help medicine or healer. Healing always depends on one person and on the responsibility he takes from now on about his life and way of life!
The island is full of beautiful surprises and places of strength, such as For example, the "Old Balate Tree" in which an old white woman's spirit lives. This tree is over 400 years old and a spring springs from the middle below it. The water accumulates there and is filled with small and medium-sized fish that nibble around at the foot.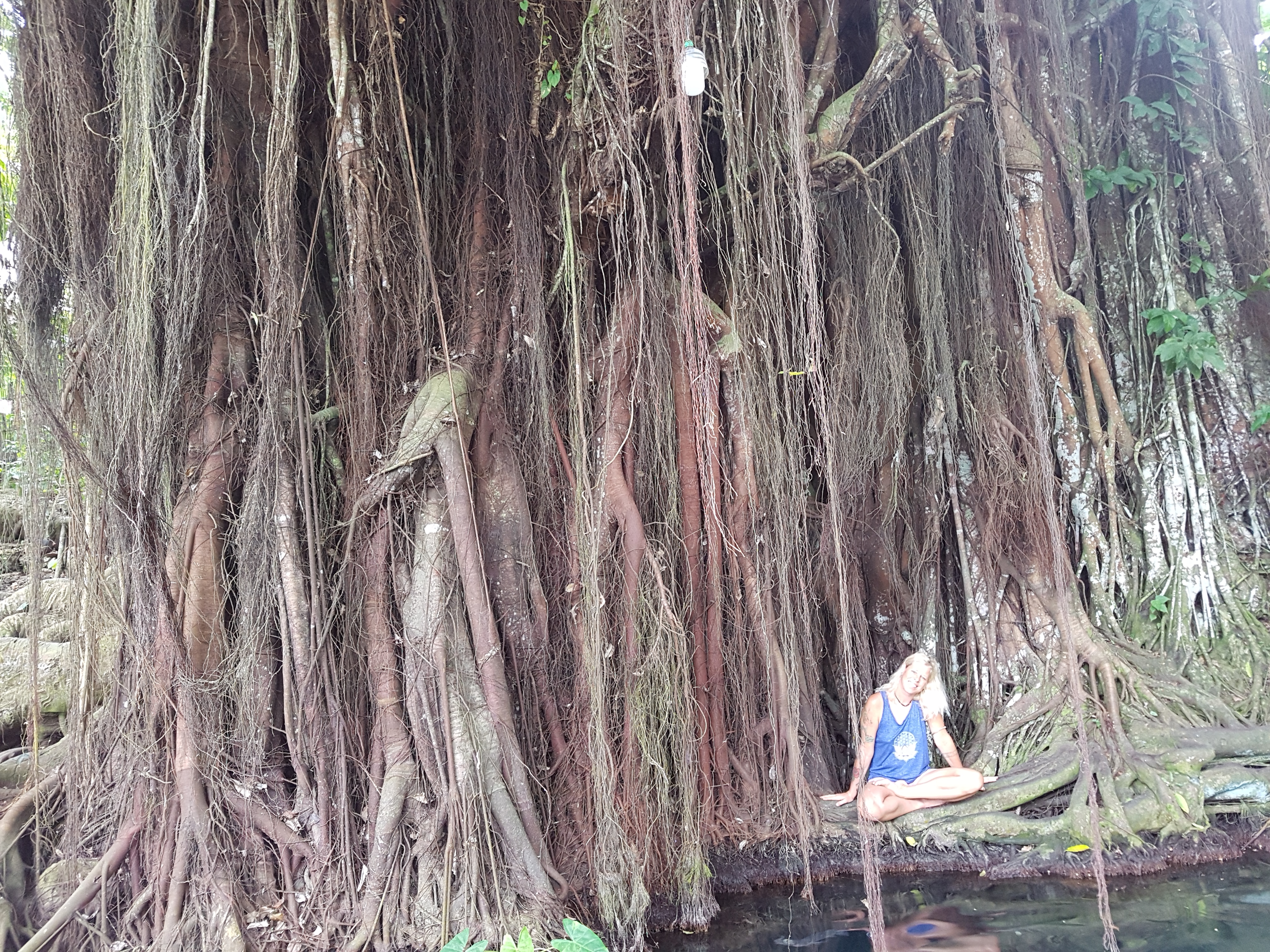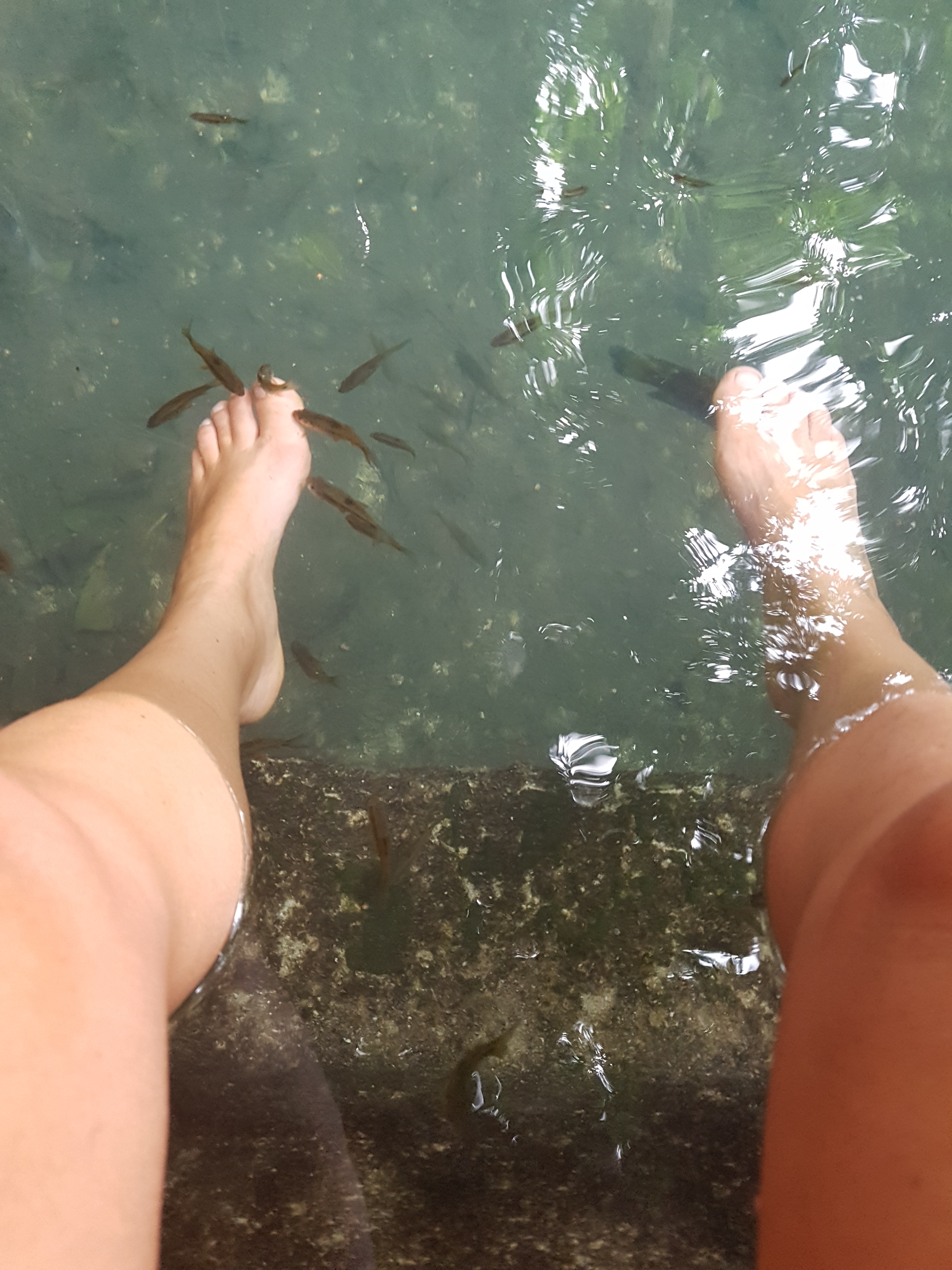 On 2 May, he was a no-one. Day we visited The Lugnason Falls. Here you can walk down a small trail along Zodiac Falls. Each small waterfall is assigned to a zodiac sign.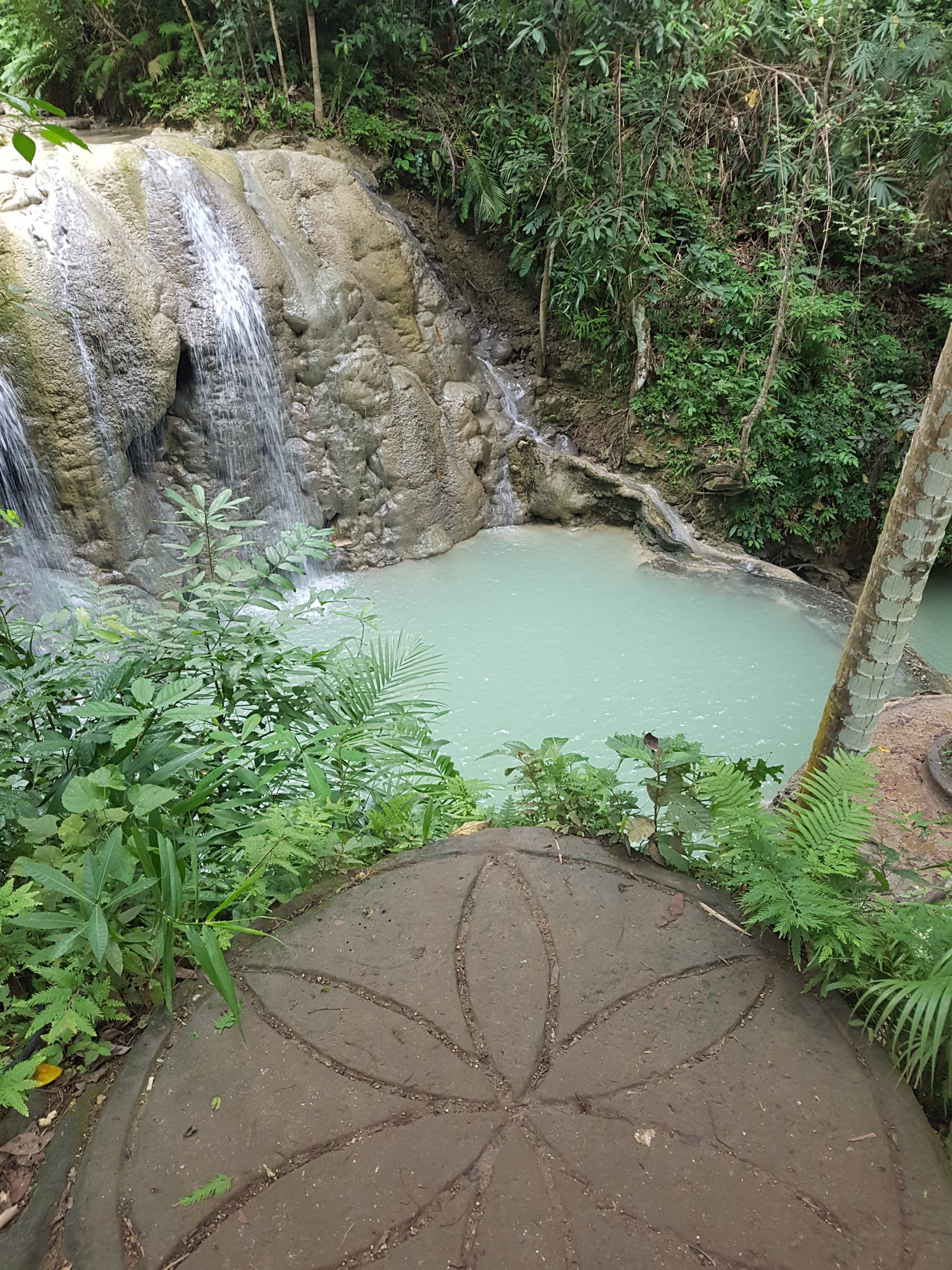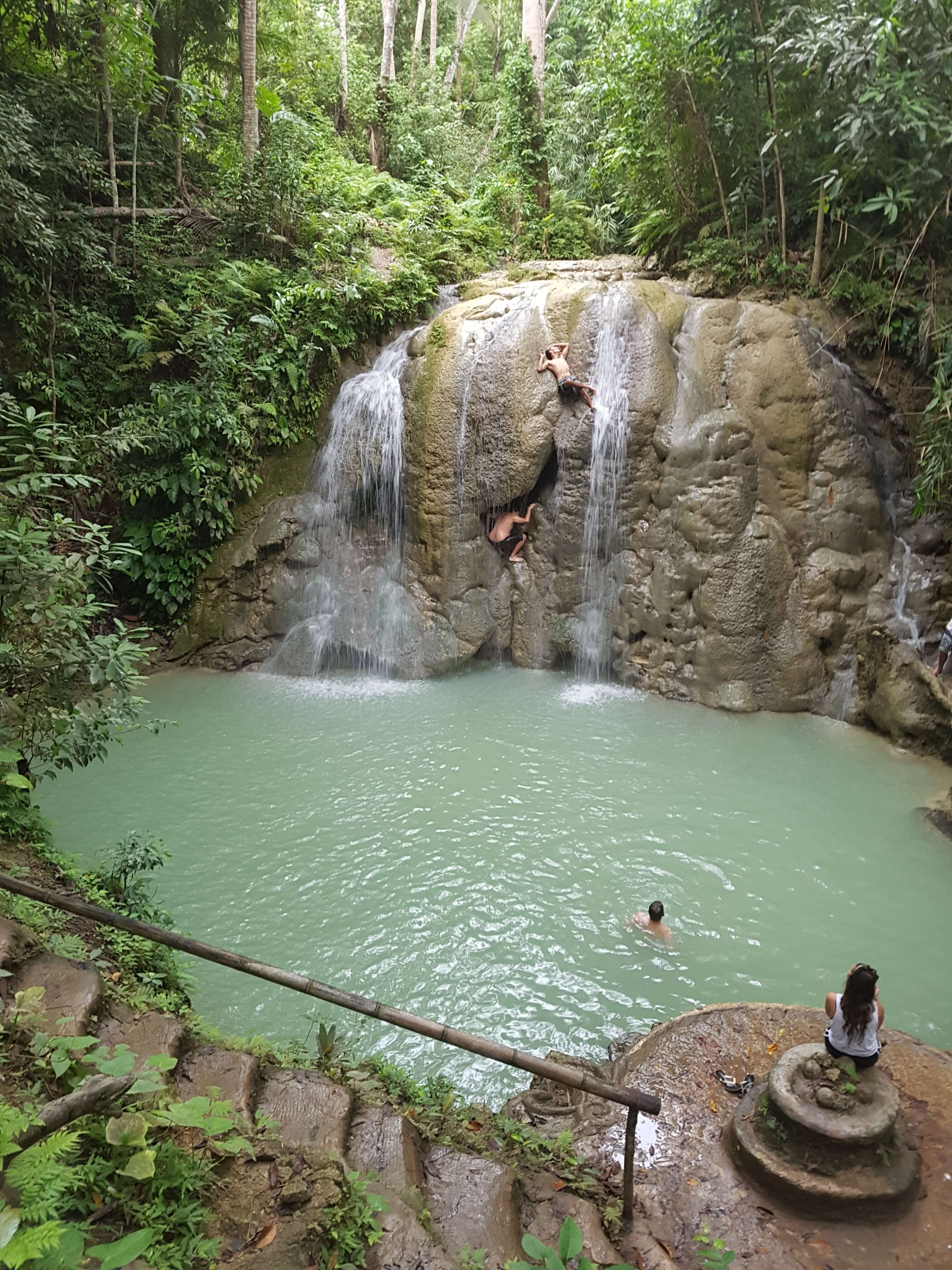 Every day we visited a different waterfall and one was more beautiful than the other. Lagaan case and Cambugahay case pictures say more like 1000 words….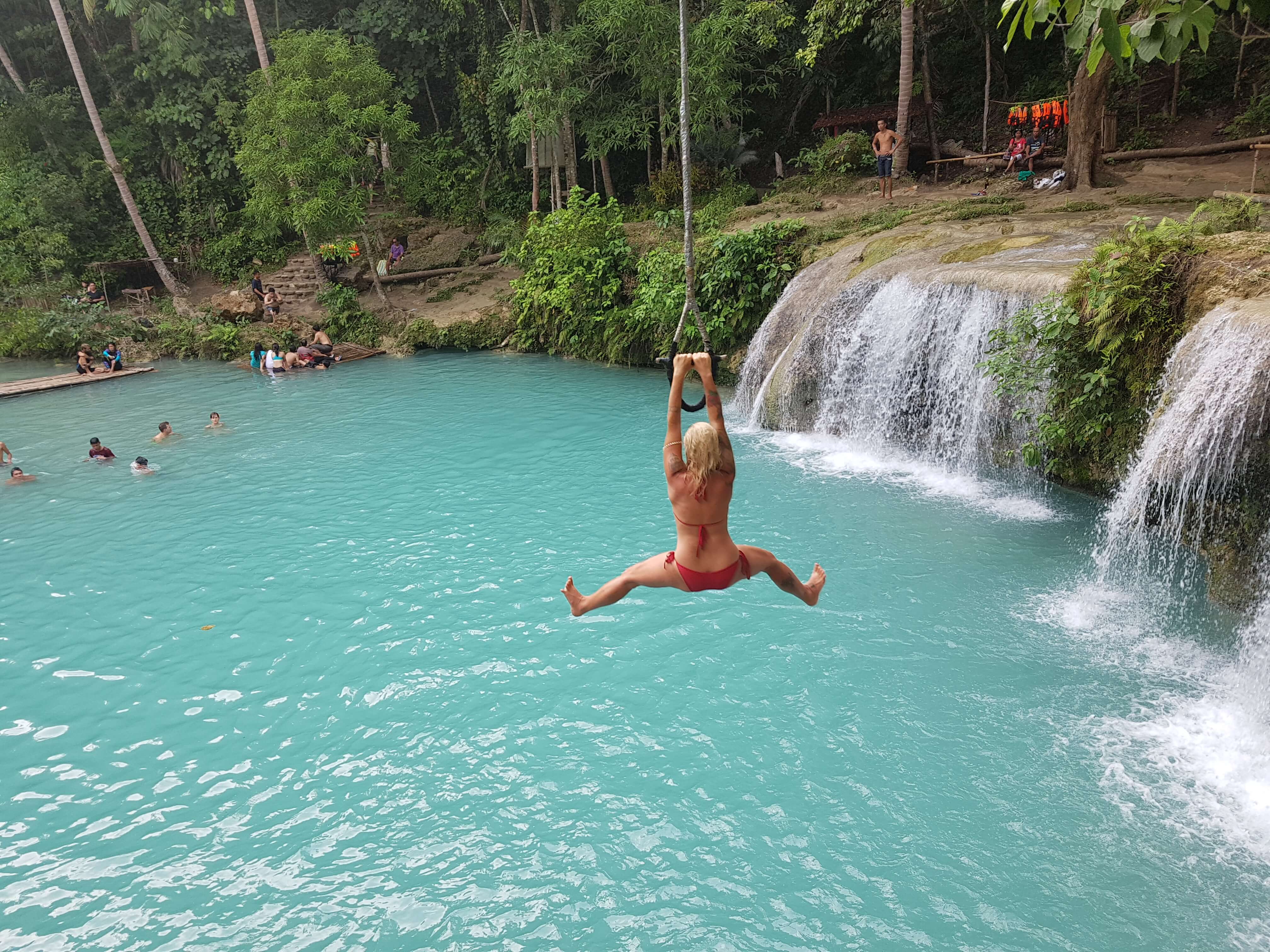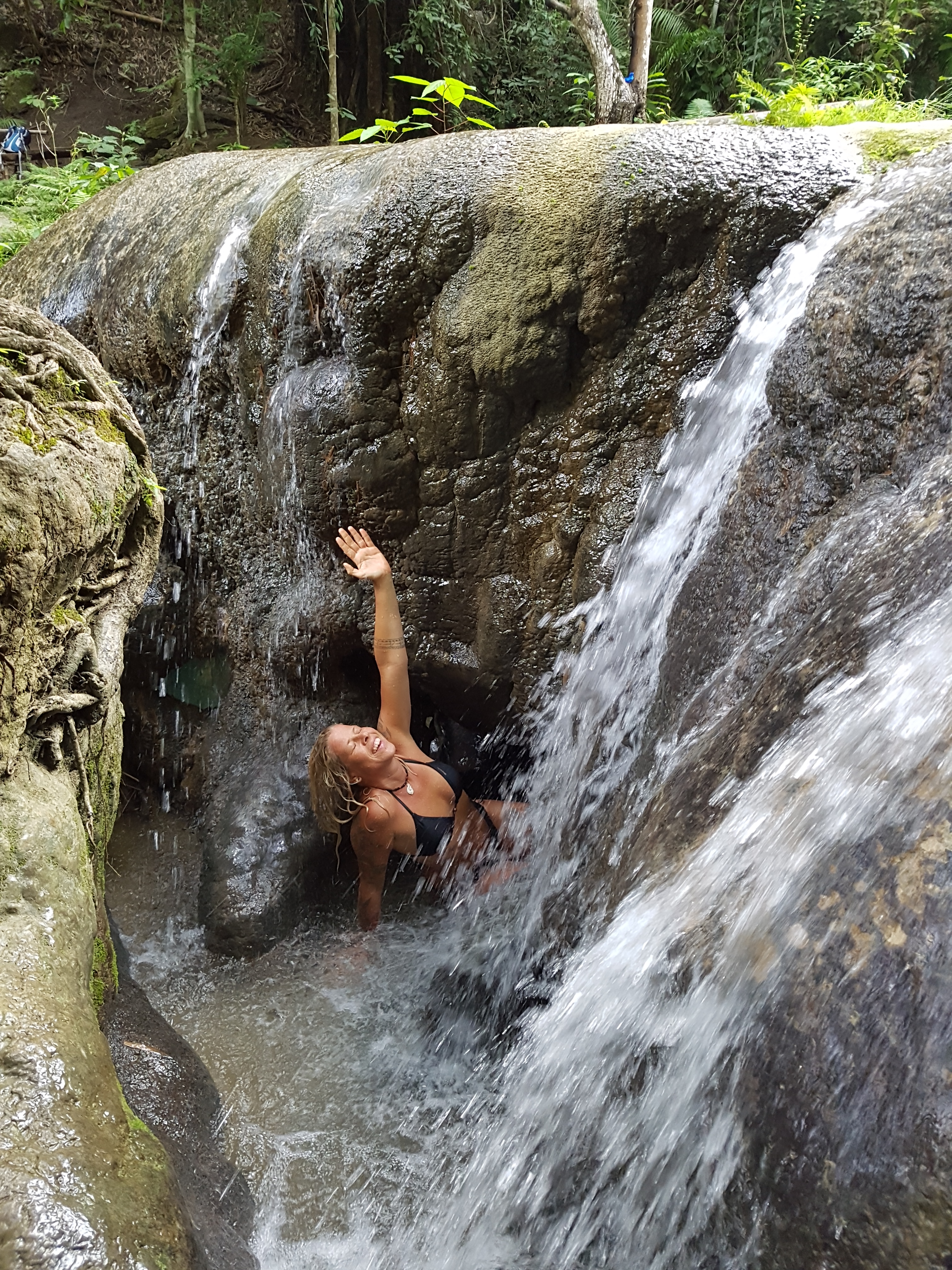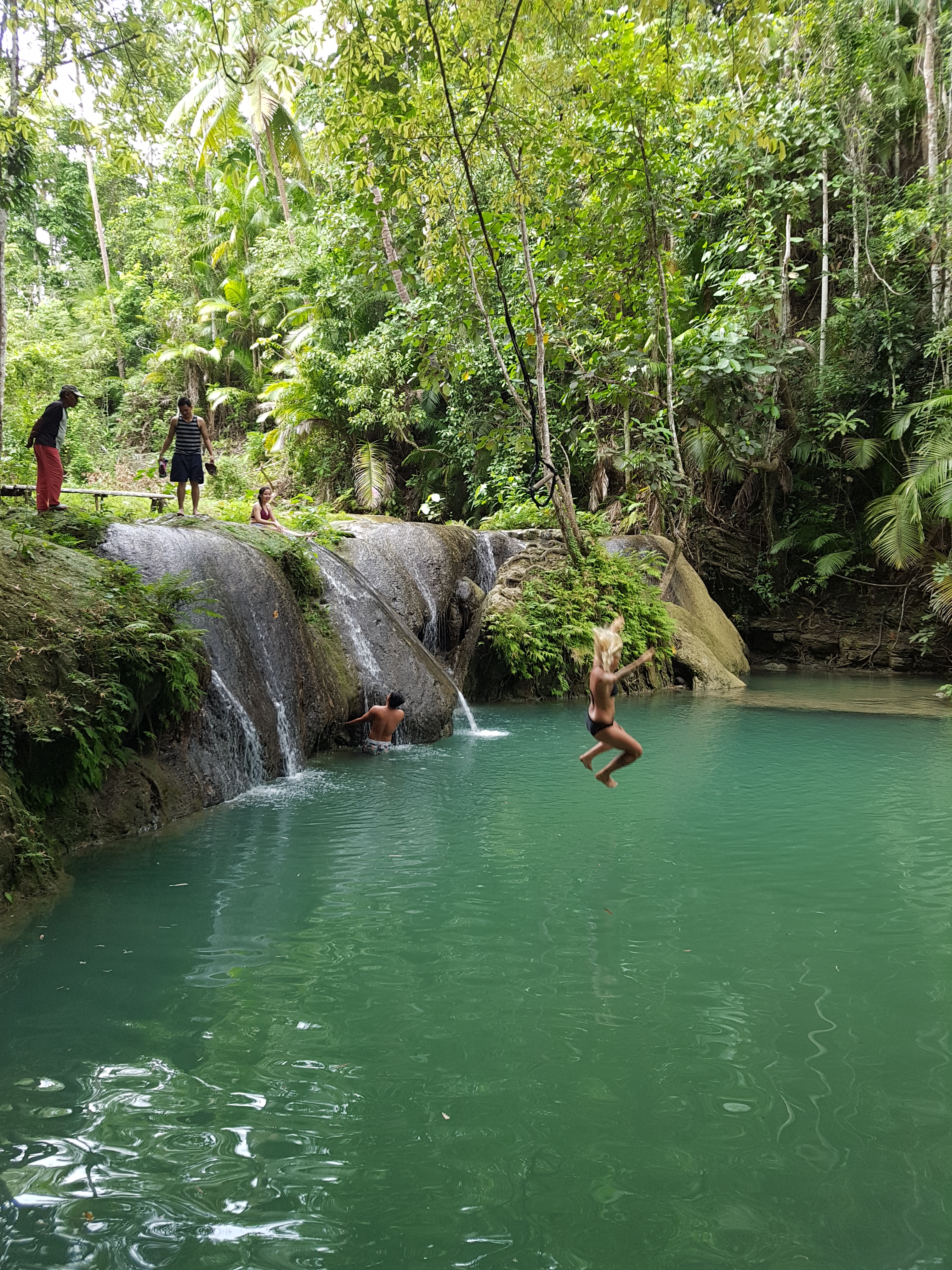 There were also beautiful beaches on Siquijor, such as: For example, the "Little Boracay Beach", which we visited at Christmas.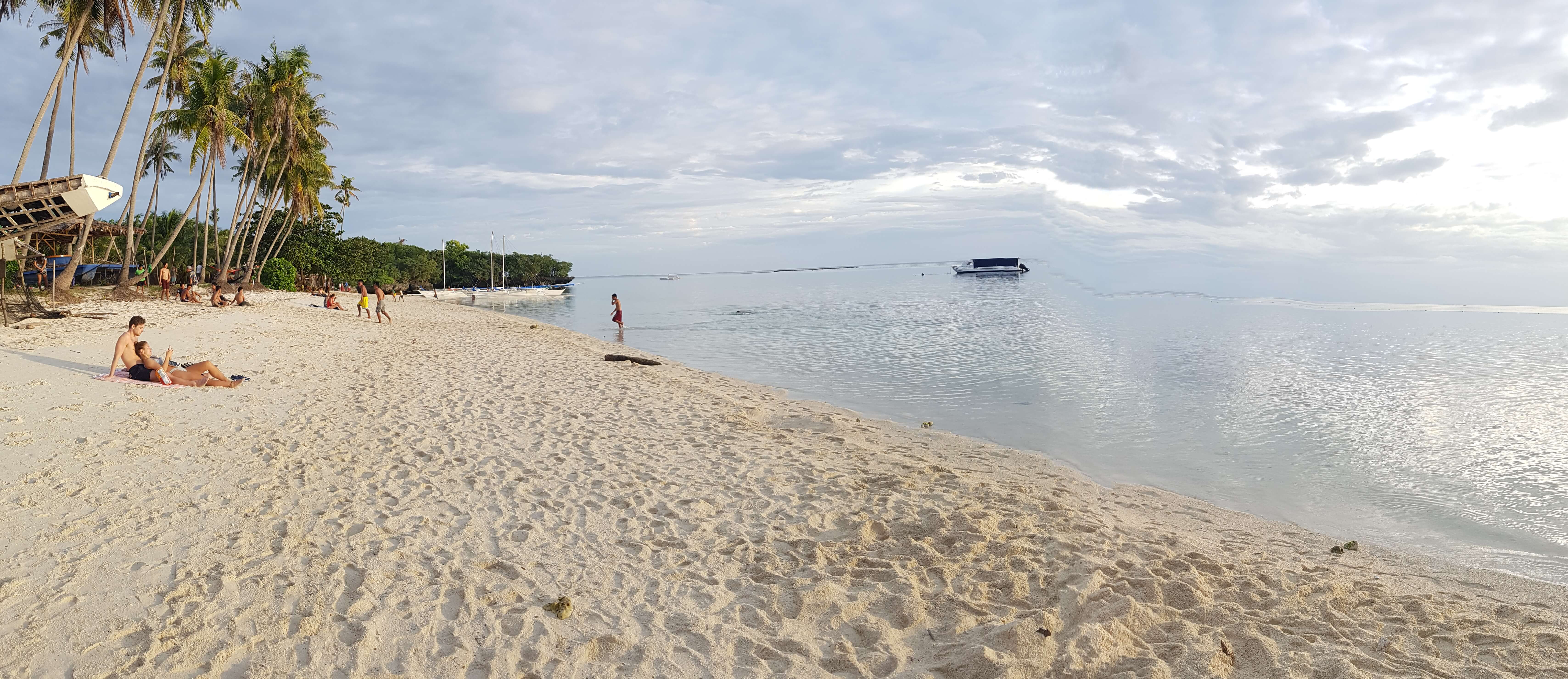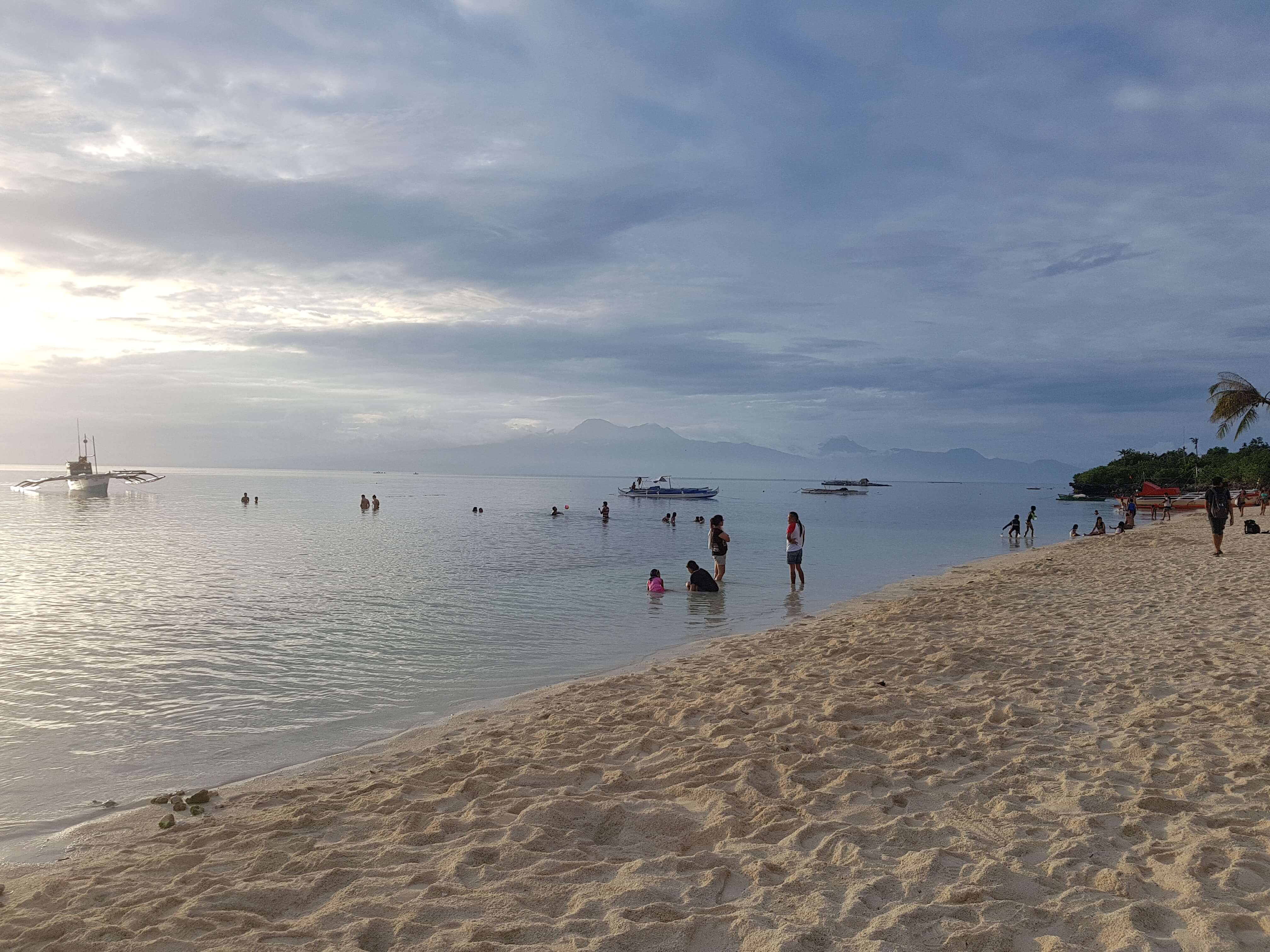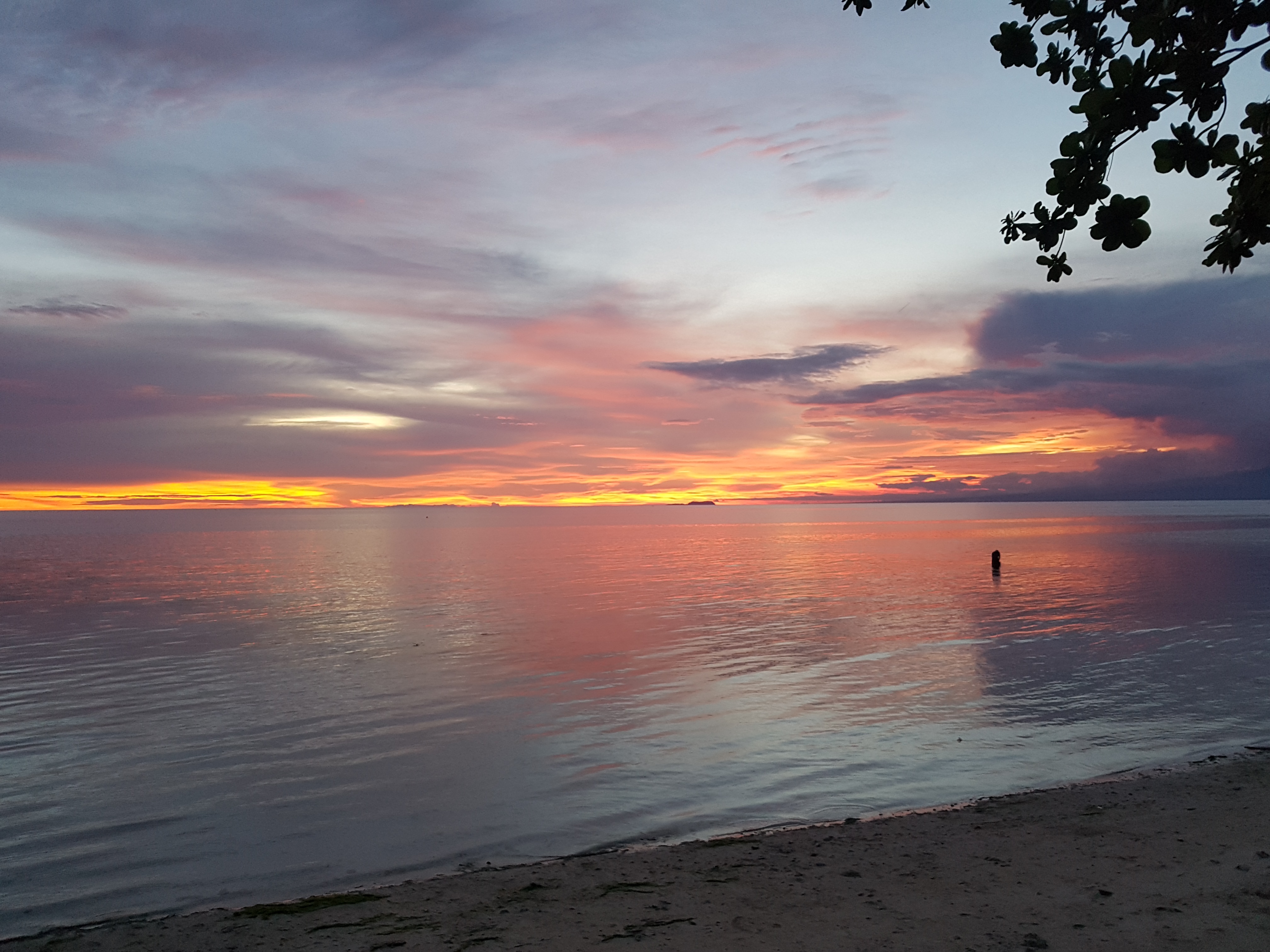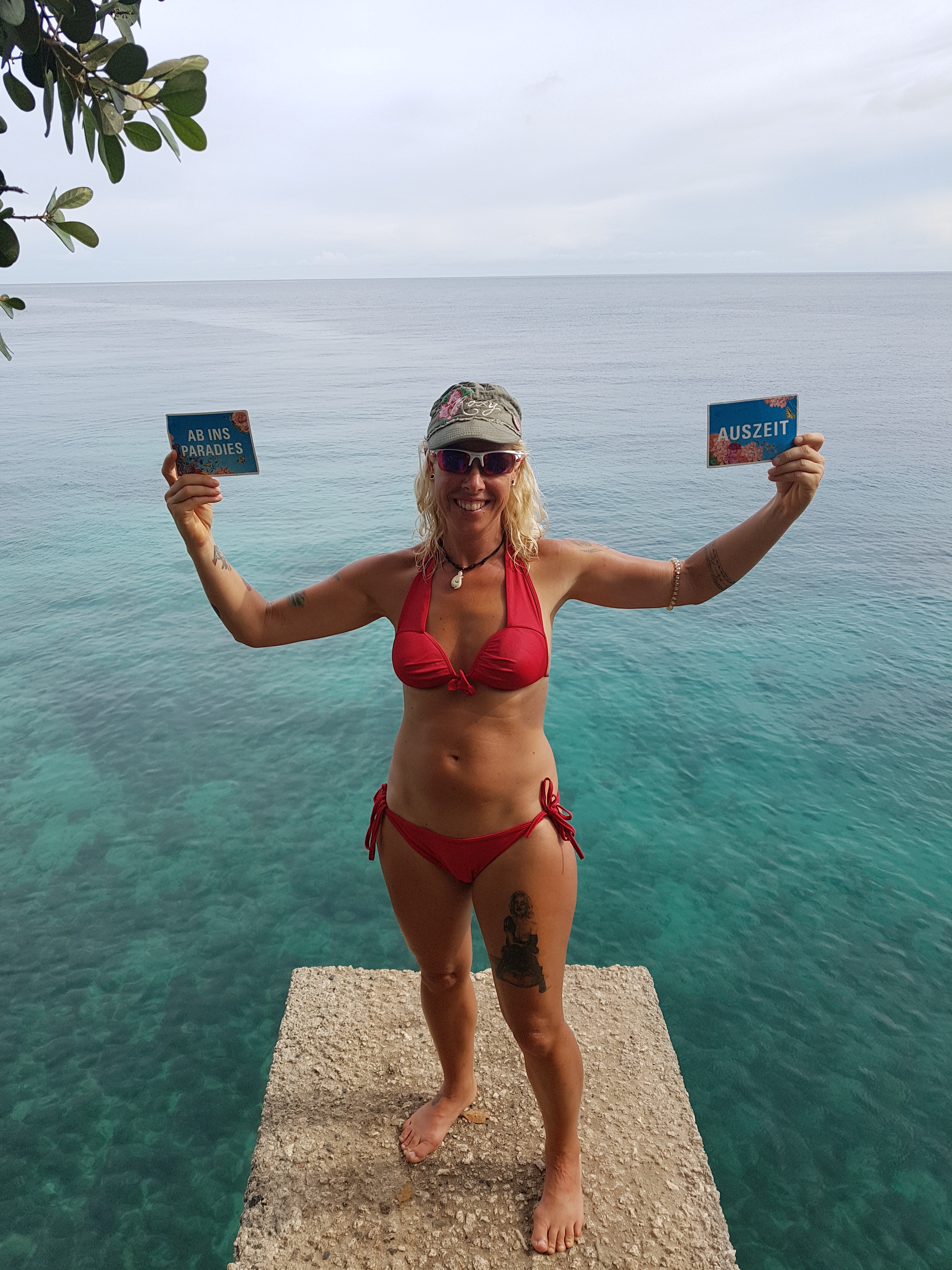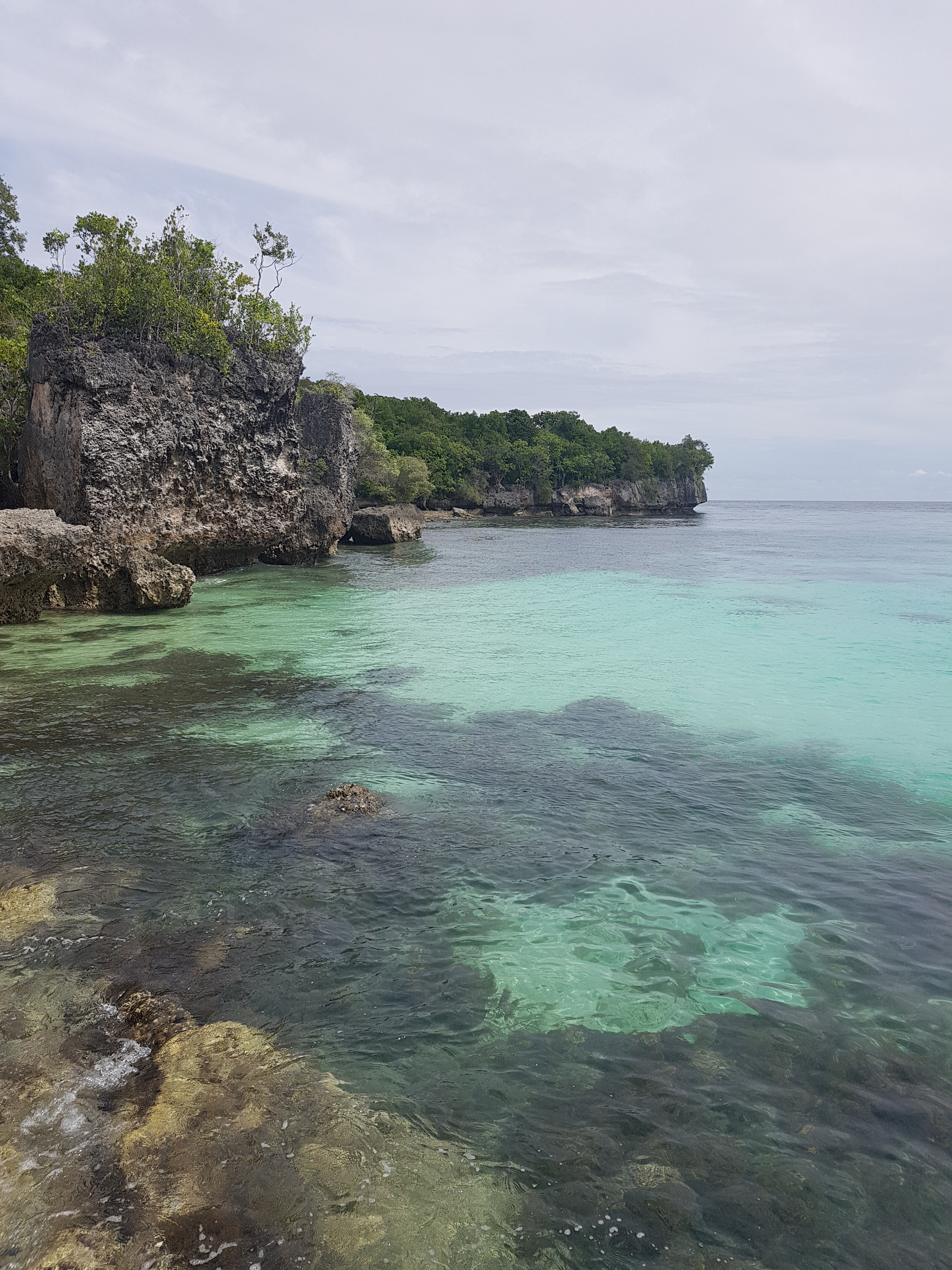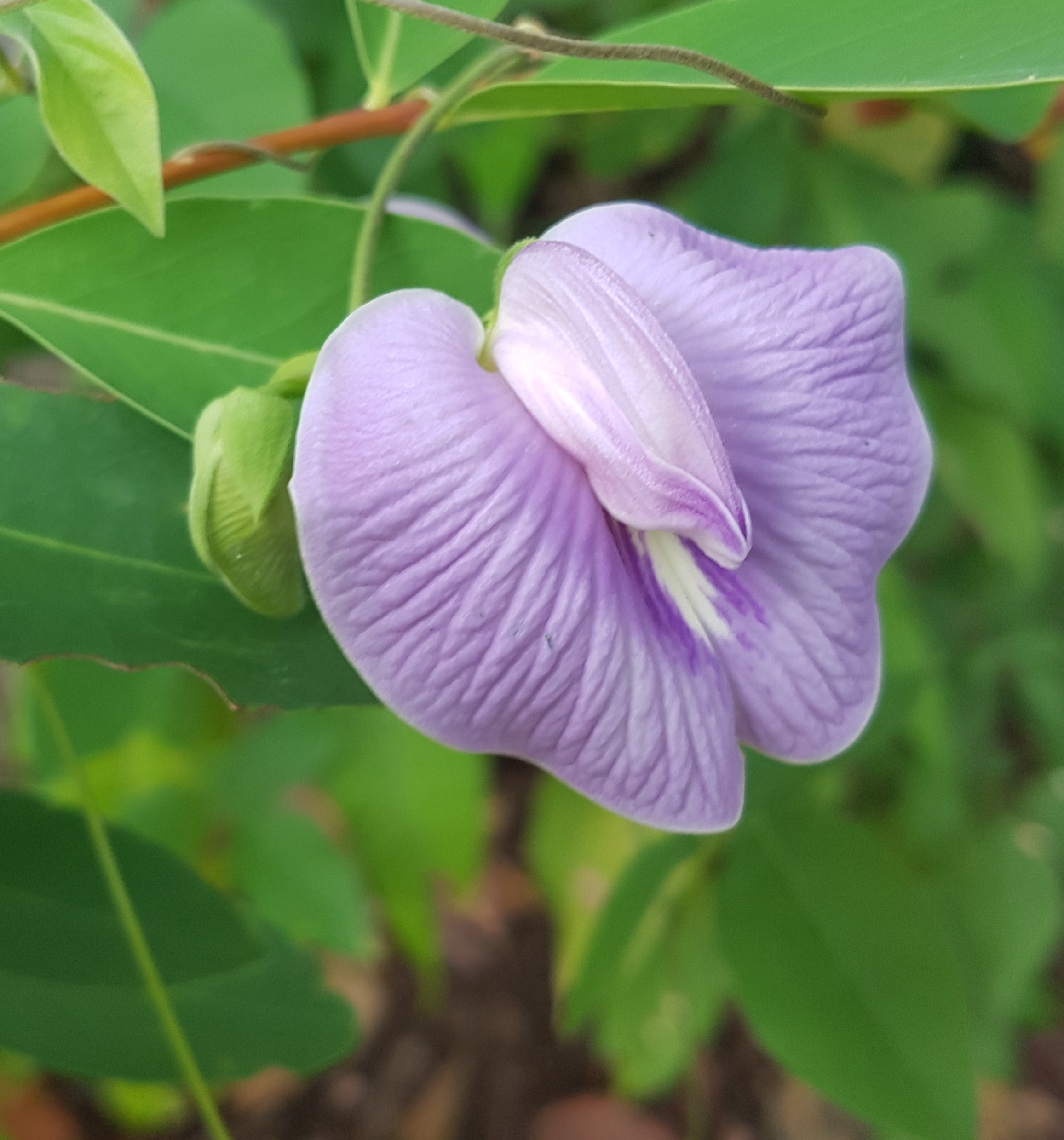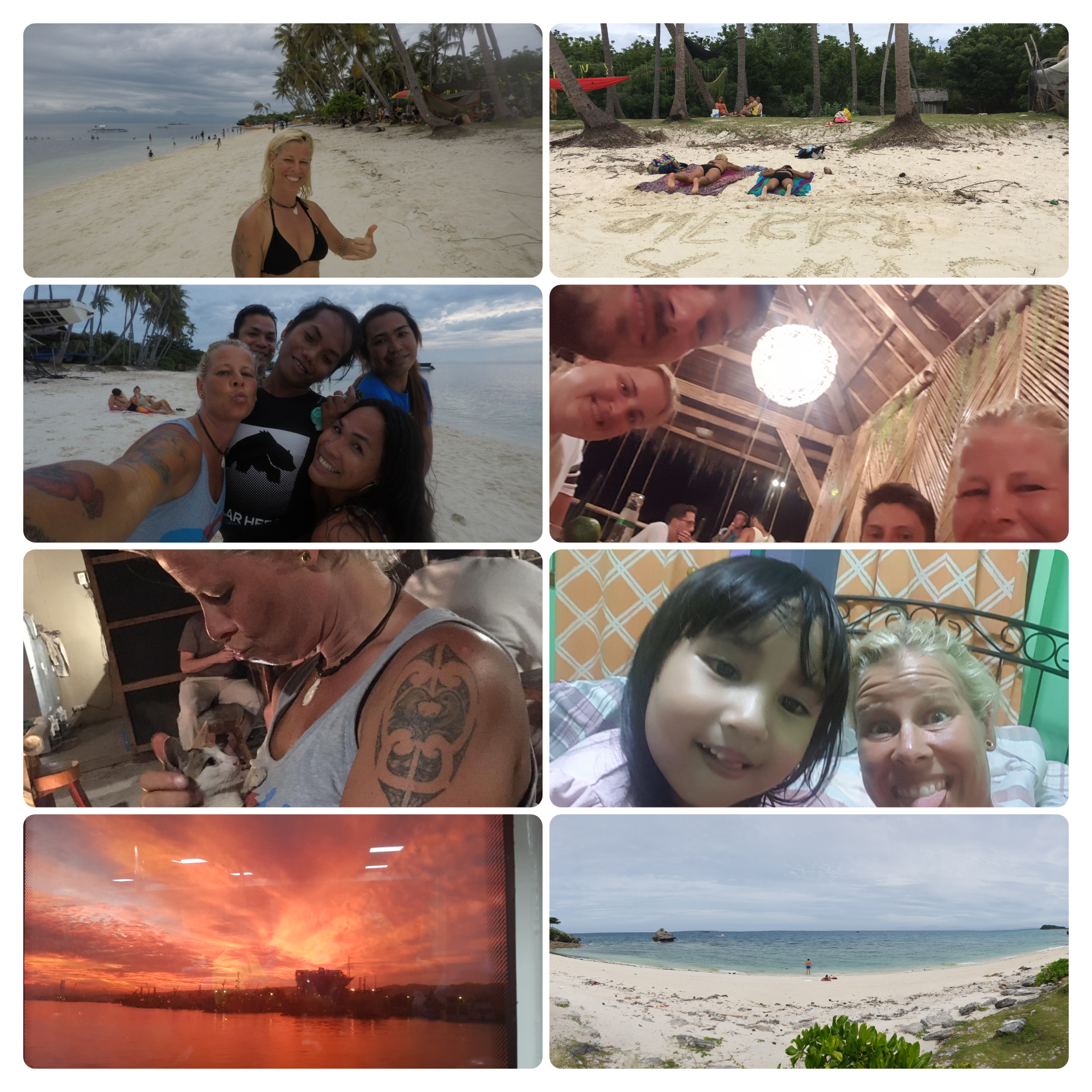 The Philippines was a nice holiday experience and there is still so much to discover. Lots of other islands and dream beaches. Just as always, time is never enough. 3 or 4 weeks are gone like in no time and I can only say that I like to come back. Maybe for a sailing trip, which was recommended to me by a "local" to get to the corners that you wouldn't otherwise see so easily, as they are difficult or impossible to reach via the roads and country roads.
In any case, the Philippines is not as touristy as, for example. B. Thailand. The people here are ultra friendly and adorable and I can only recommend every beachlover to experience the Philippines once.
Alone or in pairs, the islands are not expensive. Accommodationis available for 5 euros upwards and food (street food) can also be obtained from 1 euro. Of course, this is all a matter of opinion and taste, but in any case you can reconsider your luxury problems and enjoy a good time.
What I did not like so much is, as I said, the unhealthy food, and also the influence that the Church still has over the land. Here you will find all Christian offshoots, such as B. Jehovah's Witnesses, who have their "kingdom halls" on all islands, and 7 tags Adventists and, of course, the Catholic Church. Religion is power, is often oppression and hinders the development of the individual. "Opium for the people" – as Karl Marx put it.
That is why I am looking forward to Thailand again, where Buddism is prevalent and this is a religion with which I can reach a compromise, because it is very humane and accepting.